Austria proposes headscarf ban for girls under 10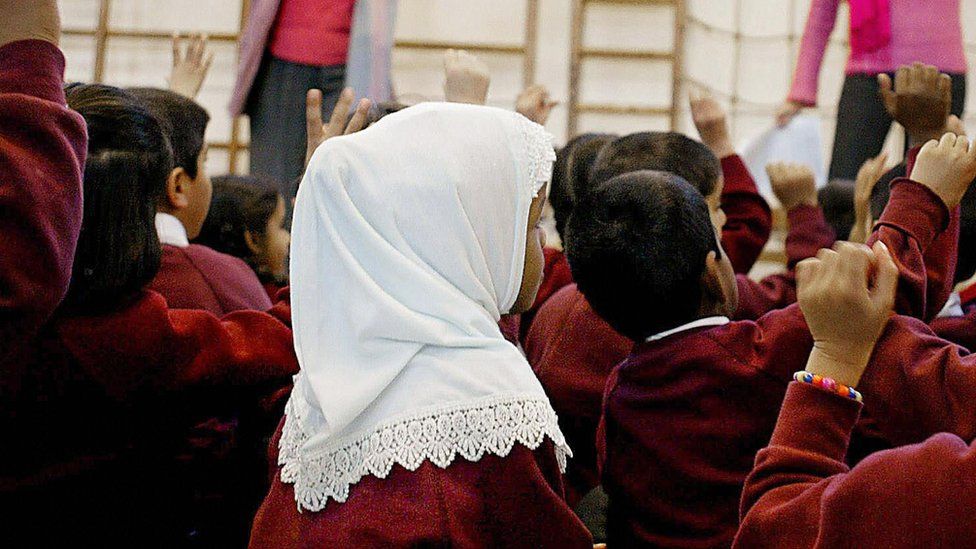 Austria's new coalition government has proposed a ban on headscarves for girls aged under 10 in schools.
The "child protection law" will be drawn up later this year, according to the education minister, and will be a "symbolic act" in protecting Austrian culture from some Islamic influences.
Austria's main Muslim group called the plan "absolutely counterproductive".
It asserts that very few girls in kindergartens and primary schools in Austria wear a headscarf.
It is not clear how many children might be affected, particularly as many Muslims believe their religion expects a girl to start wearing a headscarf from puberty.
Chancellor Sebastian Kurz of the centre-right People's Party said to broadcaster ORF Radio: "Our goal is to confront any development of parallel societies in Austria."
His conservative party won last year's election by taking a hard line on immigration, a hot topic after Austria took in the equivalent of almost 2% of its 8.7m population in asylum seekers during Europe's migrant crisis.
Vice-Chancellor Heinz Christian Strache, of the right-wing coalition partner the Freedom Party, said in a Facebook post that the government wanted to protect little girls from political Islam.
Mr Kurz, at a news conference with Mr Strache, said they believed there was a problem in schools, though they did not produce any figures to support this.
The details of the proposed law still have to be worked out, though it is expected to affect girls up to around the age of 10.
The previous coalition government of Social Democrats and Mr Kurz's conservatives passed a law banning face coverings including Muslim full-face veils in public spaces, but women and girls are free to wear regular hijab.
Austria's official Muslim community has urged dialogue, saying that people should not pursue populist politics around children's heads.
Last year, Austria's president Alexander Van der Bellen called on all women to wear headscarves in a sign of solidarity against what he called rampant Islamophobia in the country.
A note on terminology: The BBC uses the term migrant to refer to all people on the move who have yet to complete the legal process of claiming asylum. This group includes people fleeing war-torn countries such as Syria, who are likely to be granted refugee status, as well as people who are seeking jobs and better lives, who governments are likely to rule are economic migrants.