Spanish royals in awkward moment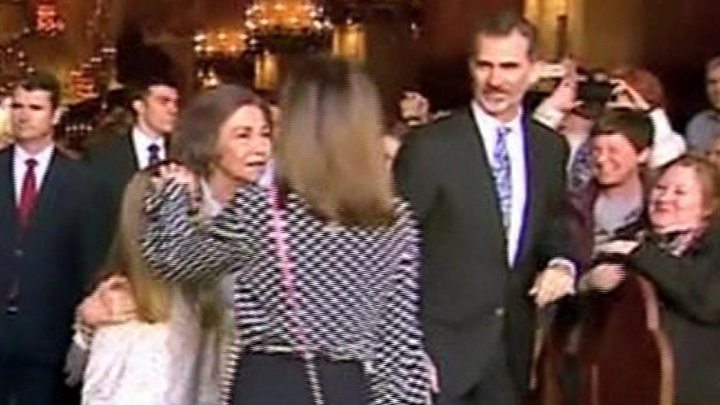 Footage has emerged appearing to show tension between Spain's Queen Letizia and her mother-in-law Queen Sofia.
The video, shot during Easter Mass on the island of Mallorca, shows Queen Letizia first blocking a photograph of Queen Sofia and her daughters and then removing Queen Sofia's hand from her daughter Infanta Sofía's shoulder.
The pair exchange words before King Felipe steps in.
Spanish media have described it as a "tense scene".
King Felipe's father Juan Carlos, 80, looks on as the awkward moment unfolds.
After the footage was published on social media, Vanity Fair España journalist Martín Bianchi Tasso tweeted that many Spanish people were unhappy with Queen Letizia's actions.
The incident also angered Marie Chantal of Greece, who is married to King Felipe's cousin Crown Prince Pavlos.
She tweeted that Queen Letizia, a 45-year-old former TV newsreader, had "shown her true colours".
Ms Chantal then posted a family photograph and wrote: "Happy grandparents! Family is what it's all about."
TeleMadrid's El Circulo programme quoted a friend of Queen Letizia's as saying she had been left "worried and devastated" by what had happened
El País newspaper said relations between Queen Letizia and Queen Sofia had been deteriorating since the birth of princesses Leonor and Infanta Sofia.
This was despite King Felipe's efforts at family unity, it said.
You may also like:
Then reigning Queen Sofia had taken Letizia Ortiz under her wing when her engagement to then Prince Felipe was announced, the newspaper said.
But that later changed, with Queen Sofia feeling that her visits to see the princesses were no longer welcome.
Meanwhile Queen Letizia's own mother Paloma Rocasolano began spending more and more time at the Zarzuela Palace, where the royals live, the newspaper said.