Stalin crimes expert cleared over 'child porn'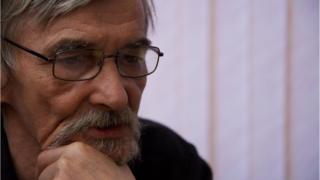 A Russian historian who has spent much of his life unearthing Soviet dictator Joseph Stalin's crimes has been acquitted of child pornography charges.
The verdict is being seen as a rare victory in a country where human rights campaigners regularly face harassment and arrest by the authorities.
Yuri Dmitriev, 62, is a historian and rights activist in Karelia, north-west Russia. He was accused of using his adopted daughter to produce child pornography and possessing an illegal firearm.
He told BBC Russian he did not know why he was arrested, but acknowledged that his work attracted international attention to Stalin-era execution sites, and he believed this could have irritated the authorities.
Commenting on his arrest, he said: "For the current regime, the truth is not desirable. It casts a shadow on their predecessors.
"I see that now our entire official ideology is aimed at glorifying the cult of Stalin, the cult of socialism."
In 2016 Memorial, the civil rights organisation for which he works, released the names of more than 40,000 state informants active during the Stalin era.
Millions of Soviet citizens were deported to harsh labour camps, and hundreds of thousands died, in the Stalinist repression that began in the 1930s.
When Mr Dmitriev was arrested in December 2016, dozens of public figures, including musicians, writers, journalists and human rights activists, came to his defence. They maintain his arrest was punishment for investigating Soviet repression - a period of history the current Russian government wants to be left alone.
Read more on this topic:
The case against him was based on photographs found on his computer, which showed his adopted daughter, then aged 11, naked.
Mr Dmitriev never denied taking the photographs; he says he took them to monitor her health and well-being for social services, not for "pornography".
The court found him guilty of possessing the components of an illegal firearm, a charge he also denied.
State prosecutors had demanded a nine-year jail term for him. Instead he will face restrictions on his movements for the next three months, over the firearms conviction.
In pre-trial detention Mr Dmitriev spent much time in the very Karelia prison where thousands of Stalin's victims, whose names he had helped to unearth, had been incarcerated.
He even told two cellmates about the fate of their relatives who were kept in the prison and executed there.
The Novaya Gazeta newspaper has called the acquittal a rare piece of good news for those who believe in justice.
"The decision was unprecedented," it wrote in an editorial. "We take pleasure in simple things - in an ordinary fair verdict, of which there should be thousands in the country."