Danielle McLaughlin: Goa murder trial begins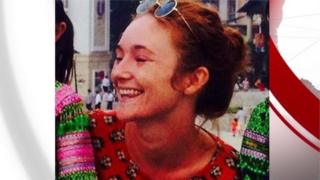 The trial of a 24-year-old Indian man accused of raping and murdering an Irish woman in Goa has begun.
Danielle McLaughlin, from County Donegal in the Republic of Ireland, was killed while on holiday in western Goa in March 2017.
Her body was discovered by another man in an isolated field, close to tourist resorts in Canacona.
A post-mortem examination found the cause of her death was brain damage and strangulation.
Vikhat Bhagat was arrested soon after her murder and CCTV footage allegedly showing he and Miss McLaughlin together is a key piece of evidence in the trial.
The man who discovered Miss McLaughlin's body on 14 March 2017, was questioned on Friday.
"I was going to my field when I saw her body. It was naked..." Prashant Komarpant said.
"Her face was smashed and covered in blood," he added.
The prosecution presented photographs of the crime spot to the court which showed the presence of the first witness.
Defence lawyers raised questions about the clarity of the photos and discrepancies in the appearance of the witness but Prashant confirmed to the court that he was in the photos.
"It is me. I can tell you by my attire and the cap I was wearing", he told the court.
The case has been 'fast tracked' by Indian authorities. and will resume on 13 April.