Two killed in Germany as van ploughs into crowd in Muenster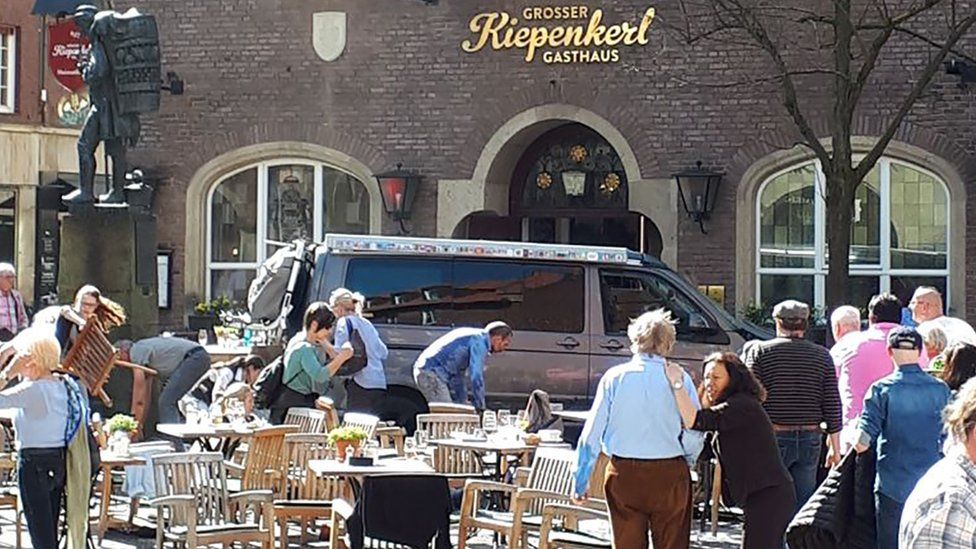 Two people have been killed in the western German city of Muenster after a van drove into people sitting outside restaurants.
The driver of the vehicle, who has not yet been officially identified, died after shooting himself at the scene.
About 20 people were injured in the incident, six seriously, which occurred near the Kiepenkerl statue in the city's old town area.
Authorities have said there is no indication it is an Islamist attack.
State Interior Minister Herbet Reuel said investigators currently believe the perpetrator is a German citizen.
Mr Reuel also said that two people had been killed by the driver, revising an earlier police figure of three.
What is known about incident?
A vehicle, reportedly a grey VW van, was driven into a restaurant terrace area at 15:27 local time (14:27 BST) on Saturday.
Eyewitnesses said it was driven at speed and photographs of the aftermath showed tables and chairs strewn across the popular tourist square.
An employee at one of the cafes told local media that she heard a bang and people screaming.
"I'm angry - it's cowardly to do something like this," she told German television channel N24.
The suspect's motive and exact identity still remains unclear, but German media reported he was a national with mental health problems.
An apartment elsewhere in the city has been searched by investigators.
Daniel Kollenberg, who witnessed the aftermath, told the BBC: "I think it is a deliberate attack because it's not allowed for cars to go in this area."
He said, "People are calm, but really shocked," adding that people were scared and disbelieving that such an attack could happen in Muenster.
The city, in Germany's north west, has a population of about 300,000.
Chancellor Angela Merkel said in a statement she was "deeply shaken" by the incident.
"Everything possible is now being done to clarify the facts and to support the victims and their relatives," she added.
The incident comes at a time of a heightened concern in Europe, following a spate of jihadist attacks using vehicles to kill pedestrians in the UK, France and Sweden.
Local police repeatedly urged people on Saturday afternoon not to speculate about the nature of the incident and wait for official information.