Hungary election: Viktor Orban's Fidesz party hopes for third straight term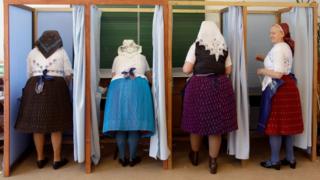 Voting is drawing to a close in Hungary, where opinion polls have pointed to a third consecutive term for right-wing Prime Minister Viktor Orban.
Before the vote, Mr Orban and his Fidesz party were polling at 20 points or more ahead of the far-right Jobbik party and the centre-left Socialists.
Polling stations were meant to close at 19:00 (17:00 GMT), but some are staying open hours later due to long queues.
Preliminary results will be announced later than expected, after 23:00.
While Fidesz is expected to win a parliamentary majority, analysts are watching to see if Mr Orban's party can regain the "supermajority" it once held.
This is the two-thirds control of the 199-seat legislature that allowed Fidesz to pass controversial laws putting pressure on the judiciary and the press.
Data at 16:30 GMT from the National Election Office showed voter turnout of 68% - around nine points higher than at the same point in the 2014 election.
Pollsters think a high turnout could benefit the opposition.
What are Viktor Orban's policies?
Mr Orban refused to publicly debate with his opponents during the campaign or speak to the independent media, speaking instead at rallies for his supporters.
These addresses focused on one core policy - stopping immigration.
"Migration is like rust that slowly but surely would consume Hungary," Mr Orban said at his final rally on Friday.
Under Mr Orban, Hungary built a fence along its borders with Serbia and Croatia in 2015 to stop illegal migrants.
His anti-immigration measures and tough rhetoric have seen him clash with the European Union in the past.
Mr Orban is an avowed Eurosceptic who opposes further EU integration. He refused to take part in the EU's refugee resettlement programme and he has praised Russian leader Vladimir Putin.
If he wins, as is likely, Mr Orban has promised to cut income tax and pass pro-growth economic policies.
His administration has presided over strong economic growth which, he says, would be threatened under the opposition.
Who are the opposition parties?
A poll on Friday put Fidesz on 46% among decided voters, more than 20 points ahead of their nearest rivals Jobbik, on 19%.
Formerly a far-right group who agitated against Hungary's Roma community, Jobbik has tried to claim the centre ground in recent years.
Rebranding itself as a moderate "conservative people's party", its leader Gabor Vona has called for a change in government and railed against Mr Orban.
"Viktor Orban is a burnt-out politician, interested only in corruption and football," he once said.
The centre-left Socialists meanwhile were on 14% in Friday's poll and not thought to pose a threat to Fidesz.
However, one-third of voters remain undecided, and an upset is not being ruled out.
In February, the southern town of Hodmezovasarhely elected a mayor backed by all the main opposition parties. It had been considered a Fidesz stronghold.
Analysts suggest tactical voting could in theory strip the government of its 131-seat domination of Hungary's parliament.
However, given his commanding lead in the polls, an outright defeat for Mr Orban is unlikely.