Italy smashes 'jihadist' Tunisian speedboat trafficking gang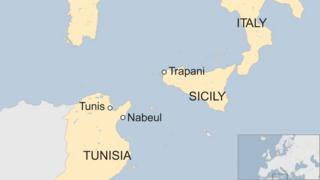 Italian police say they have dismantled a human trafficking gang running speedboats between Tunisia and Sicily whose members had jihadist sympathies.
Up to 15 migrants were on each boat, paying up to €5,000 ($6,100; £4,400) each for the four-hour crossing from Nabeul to Trapani, police said.
In one wiretapped call, a gang associate reportedly suggested he was planning to carry out a suicide attack in France and asked for prayers.
Thirteen people have been arrested.
They included suspects from Italy, Tunisia and Morocco, police said.
Some of the gang's members had jihadist sympathies and had displayed "hostile attitudes to Western culture" and spread "propaganda" via fake profiles on social media, a police statement said.
The gang also smuggled cigarettes, bringing the total value of each trip to about €70,000. They were able to make two trips a week, AP reported.
---
A note on terminology: The BBC uses the term migrant to refer to all people on the move who have yet to complete the legal process of claiming asylum. This group includes people fleeing war-torn countries such as Syria, who are likely to be granted refugee status, as well as people who are seeking jobs and better lives, who governments are likely to rule are economic migrants.