Swedish Academy head quits Nobel body over sexual misconduct probe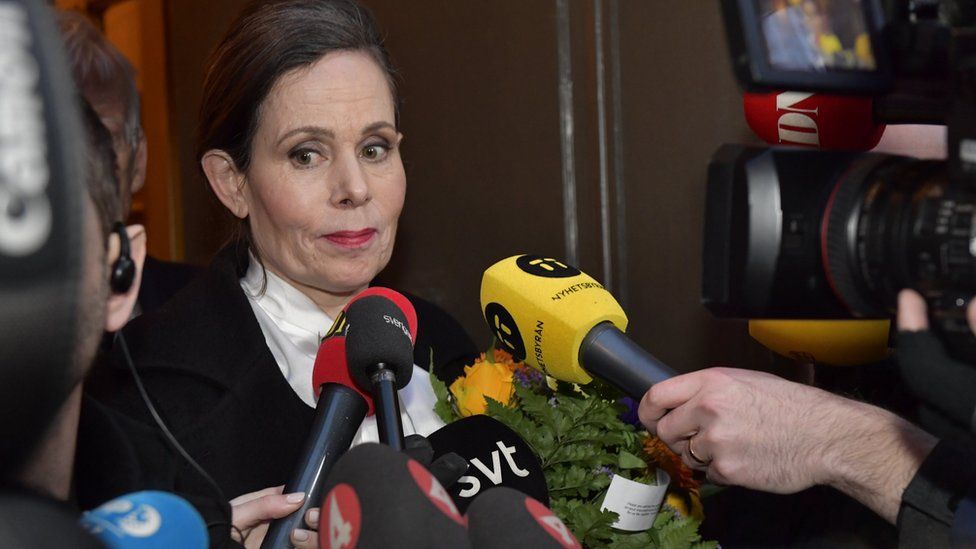 The head of the Swedish Academy - the prestigious body that awards the Nobel Prize in Literature - has stepped down in the wake of a sexual abuse scandal.
The organisation has been criticised for its handling of a probe into the alleged sexual misconduct of a man married to one of its members.
"It has already affected the Nobel Prize quite severely and that is quite a big problem," said Professor Sara Danius, as she stood down.
The accused denies all the allegations.
"It was the wish of the Academy that I should leave my role as Permanent Secretary," Ms Danius told reporters on Thursday. "I have made this decision with immediate effect."
After the Academy voted against removing Ms Frostenson last week, three of its members Klas Ostergren, Kjell Espmark and Peter Englund withdrew from the 18-person committee in protest, Swedish media reported.
While they cannot technically resign from their positions, which are for life, they can stop participating in the Academy's activities.
The Nobel body had cut all ties and funding to Mr Arnault, who runs a cultural club in Stockholm, shortly after the allegations came to light.
The Swedish Academy said at the time that it had potentially broken its own rules regulating conflict of interest and appointed a legal firm to investigate its committee members' links with Mr Arnault.
His lawyer told Reuters that he rejected all the claims against him.
"Jean-Claude Arnault rejects all claims of criminal activity and he rejects other allegations that have been made against him," Bjorn Hurtig said in an email.
None of the sexual misconduct allegations had been reported to the police when the scandal broke last year, but state prosecutors opened a preliminary investigation into the incidents.
Last month, they said some parts of their probe had been shelved due to a lack of evidence and because the statute of limitations had passed for some of the allegations.
However, the investigation related to some incidents was continuing, prosecutors confirmed.