Hungary: Tens of thousands march in Budapest anti-Orban demo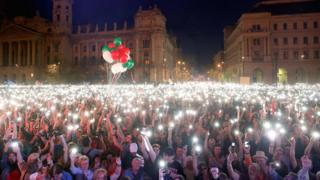 Tens of thousands of people have demonstrated in Budapest against the re-elected right-wing government of Hungarian Prime Minister Viktor Orban.
Opponents of Mr Orban flooded the capital on Saturday to protest at what they say is an unfair electoral system.
A similar number of people attended a pro-Orban demonstration last month.
The protests come just six days after the governing Fidesz party won two-thirds of the parliamentary seats with half of the national vote.
Mr Orban is a strong Eurosceptic who campaigned on an anti-immigration platform.
The march was organised through a Facebook group called "We are the majority". Following the large turn-out for Saturday's rally, the organisers have called for a further demonstration next weekend.
BBC correspondent Nick Thorpe reported from Budapest that around 100,000 people attended Saturday's protests. Many were brandishing Hungarian and European Union flags.
A large number of police were deployed in the capital, including riot officers, however the demonstration remained peaceful.
Speakers who participated in the event denounced what they called Mr Orban's theft of the election, and the corruption and abuse of power they say characterises his rule.
Asked about the prospect of forthcoming demonstrations, Mr Orban simply replied: "We won, that's it."
The organisers of the anti-Orban protests have demanded a recount of all ballots, a new election law, a non-partisan public media, and better organised co-operation among parties opposed to the Fidesz government.
Many of those who marched the streets to the Hungarian parliament on Saturday were young people.
"We want to live in a state of law, where checks and balances are present, we want to live in a real democracy," protest organiser Viktor Gyetvai, 20, told AFP news agency.
"This is our last chance to do something for this country," he added.
Many parties and movements opposed to Mr Orban's government, including the right-wing nationalist Jobbik, participated in the demonstration.