US pastor Brunson goes on trial in Turkey after arrest in coup crackdown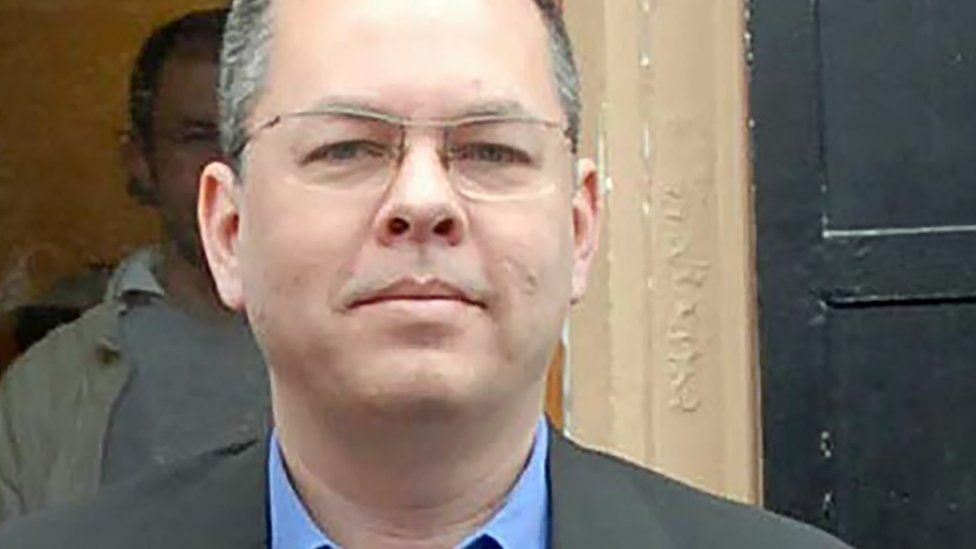 An American pastor on trial in Turkey has denied charges of aiding a terrorist organisation, in a case that has frayed Turkey-US relations.
Andrew Brunson is accused of helping a group led by Fethullah Gulen, an exiled Muslim preacher who Turkish authorities allege was behind a failed 2016 coup.
Mr Brunson, who ran a Protestant church in the Turkish city of Izmir, was arrested in October 2016.
If convicted, he faces up to 35 years behind bars.
Mr Brunson, 50, an evangelical pastor originally from North Carolina, appeared in court on Monday in the town of Aliaga for the first day of his trial. Also in court were Sam Brownback, the US ambassador at large for religious freedoms, and US Senator Thom Tillis.
Mr Brunson's lawyer, Cem Halavurt has called the charges "totally unfounded", saying they are based on testimony from secret informants. He told the AFP news agency ahead of the hearing that his client was "both nervous, but also excited because it is the first time he will appear before a judge. He has expectations and a hope".
Prosecutors say Mr Brunson worked with a group led by Mr Gulen, who is living in exile in Pennsylvania in the US, as well as with the Kurdistan Workers' Party (PKK).
Turkey has designated both Mr Gulen's network and the PKK as terror groups, and accused My Gulen of fomenting an attempted military coup in the country in 2016, in which at least 250 people died.
Mr Gulen has denied any involvement in the attempted coup, and the European Union has said it does not share Turkey's view that his network is a terror organisation.
Mr Brunson, who has lived in Turkey for 23 years, serving as pastor of the Izmir Resurrection Church, was among those swept up in a massive crackdown by Turkish President Recep Tayyip Erdogan, following the failed coup. More than 50,000 people were arrested in the crackdown, as well as 100,000 state employees fired and newspapers and TV stations shuttered.
Turkey initially accused the pastor of being a member of both Mr Gulen's network and the PKK, but apparently adjusted the charges before the trial, accusing him of working on the groups' behalf.
Relations between Turkey and the US were already strained over American support for Kurdish militias in Syria, which have been targeted by Turkish forces. Turkey has formally sought the extradition of Mr Gulen, but the US says it has not been given sufficient evidence to back up the request.
In September, Mr Erdogan raised the prospect of a swap, exchanging Mr Brunson for Mr Gulen, but the idea was dismissed by the US authorities, who have pressed Turkey to release the pastor.
According to CeCe Heil, executive senior counsel at US Christian group the American Center for Law and Justice, Mr Brunson has lost 50lb (23kg) during his detention and been denied private meetings with his lawyer.
Mr Brunson's daughter, Jacqueline Furnari, told a US commission investigating the crackdown in Turkey that she had postponed her wedding in her father's absence.
"I'm still waiting for my dad to walk me down the aisle, and I'm still waiting for that father-daughter dance," she said.