Germany's Jews urged not to wear kippahs after attacks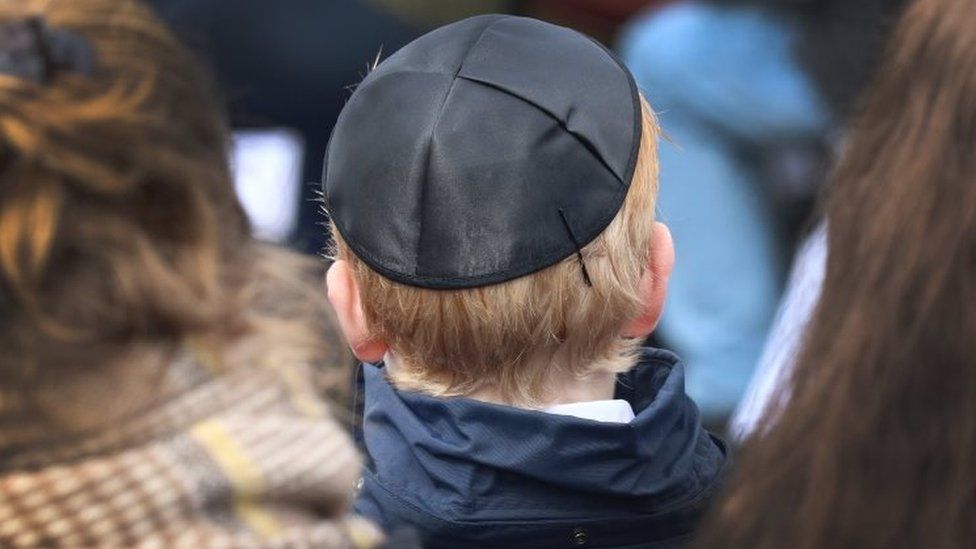 The leader of Germany's Jewish community has advised Jews to avoid wearing traditional skullcaps (kippahs) following anti-Semitic attacks.
Josef Schuster, the president of the Central Council of Jews in Germany, told Berlin public radio that Jews should exercise caution in big cities.
His comments come ahead of a "Berlin Wears Kippah" solidarity march in the German capital on Wednesday.
The attacker was filmed shouting anti-Semitic abuse.
Jewish organisations in Germany have expressed alarm over a number of recent anti-Semitic insults and threats in schools.
At the weekend, Chancellor Angela Merkel condemned what she described as "another form of anti-Semitism".
She told Israel's Channel 10 TV network that aside from anti-Semitism by right-wing groups, similar threats were coming from some Muslim refugees in the country.
What did Josef Schuster say?
"Defiantly showing your colours would in principle be the right way to go [to tackle anti-Semitism]," he said.
"Nevertheless, I would advise individual people against openly wearing a kippah in big German cities," Mr Schuster added.
But he also stressed that if Germans refused to stand up to anti-Semitism "our democracy would be at risk".
"This is not only about anti-Semitism - it goes along with racism, it goes along with xenophobia. You need a clear stop sign here."
What about reaction from other groups?
"I used to always advise my Jewish friends and acquaintances not to wear a kippah so as not to show their Jewish identity. I changed my opinion," a spokesman said last week.
"We must take up this fight and be visible again in public."
Separately, the head of Germany's Central Council of Muslims condemned recent anti-Semitic attacks.
"Anti-Semitism, racism and hatred are great sins in Islam, therefore we will also never tolerate that," Aiman Mazyek told Germany's Rheinische Post newspaper.
Germany's Jewish population has grown rapidly since the fall of the Berlin Wall in 1989.
Before 1989, the population was below 30,000 but an influx of Jews, mainly from the former Soviet Union, has raised the number to more than 200,000.