Ireland abortion poll: Campaigns in full swing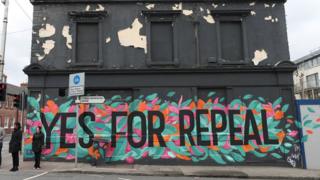 On Friday, 25 May, voters in the Republic of Ireland go to the polls to decide whether to reform the country's near-total ban on abortion.
If there is a Yes vote the government will introduce legislation allowing for unrestricted access to a termination for the first 12 weeks.
I spent some time with campaigners from both sides of the argument.
It's half past seven in the evening and a team of 20 canvassers are knocking doors in north Dublin.
They are looking for a Yes vote in the abortion referendum; they want to repeal the eighth amendment that gives equal rights to life to the mother and to the unborn.
Among those on the campaign trail are three consultant obstetricians; one of whom is Professor Mary Higgins from the National Maternity Hospital in Dublin.
"Do not think that abortion is an easy choice, it's not," she says.
"Even the word 'choice' makes it sound like people are going to McDonalds and they're picking up a Big Mac.
A few hours earlier in a wet town centre in Maynooth, County Kildare, those who describe themselves as pro-life are waving red flags and urging a No vote as people pass by.
They want to save the eighth amendment, believing that it's a human rights issue - both mother and the unborn have equal rights to life.
Among them is a County Waterford woman, Vicky Wall, from the Life Institute.
She became an anti-abortion choice campaigner after being told her daughter Liadán had a life-limiting condition.
She rejected suggestions she go to England to terminate her pregnancy and says she spent precious time with Liadán in her womb before she passed away at 32 weeks.
Nine Irish women leave daily for British abortions and every day four women import pills via the internet to induce termination risking a 14-year jail term.
'Native Irish women'
Ms Wall says in 2016 3,500 Irish women travelled for abortions.
"But only 2,500 of them were white Irish," she says.
"So, they weren't all native Irish women. That's a reduction in the number.
"They've done nothing to help and support women. They just want to bring in this absolutely insane regime of just abortion for all."
Asked, as someone who describes herself as pro-life, to clarify her point about white, native Irish women she replied: "Half of these women were of mixed nationalities.
"So, maybe they come from a culture where that's expected of them to do and that's what they feel is the right thing to do.
"There weren't that many Irish women that's my point. Now you're right, it doesn't matter. It's mothers and babies travelling for what they feel the need to do."
'Re-traumatised'
The campaign has so far has hardly involved politicians, who like the rest of society are divided on the issue.
Maeve Eogan, a consultant obstetrician and the medical director of the Sexual Assault treatment Unit at the Rotunda hospital in Dublin, believes it is really important that women who are the victims of rape or incest are not re-traumatised by having to prove their victimhood.
"Access to termination of pregnancy without having to disclose a reason, with a short gestational period, is probably the best way forward," she says.
At the moment Irish doctors have to prioritise the life of the unborn over the health of a pregnant woman.
'More value'
Cliona Murphy, an obstetrician at Dublin's Coombe hospital, says that for her there's a whole difference between a pregnant mother "most likely with children at home compared to an undeveloped pregnancy of maybe six, seven, or eight weeks.
"For me, certainly, as a mother with three sons, I'd feel my life is valuable and should have more value than an undeveloped foetus."
Voting is just two weeks away and polls show the Yes leading narrowing.
Both sides are desperate to get their message across.
The Yes campaign has called in actors such as Saoirse Ronan, Ciaran Hinds and James Nesbitt, while the No side have their own supporters, including Mickey Harte, the Tyrone gaelic football manager.
Yes or No? The people will decide.