Ireland 'will not expel Israeli ambassador' over Gaza deaths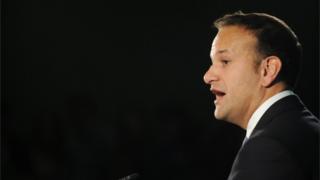 The taoiseach (Irish prime minister) has said the Israeli ambassador will not be expelled from Ireland in response to to the deaths and injuries in Gaza.
Opposition TDs had called for Zeev Bokar to be expelled after Israeli troops opened fire on Palestinian protesters on Monday. 58 people died.
It was the deadliest day of violence in Gaza since a war in 2014.
Leo Varadkar said he was profoundly shocked by the death toll.
"There is no indication that the scale of the threat could have justified such violence and so many deaths," said Mr Varadkar.
"Live ammunition is not a tool to be used for crowd control in our view.
He added: "If we were to expel their ambassador they would expel ours."
Expressed 'outrage'
On Tuesday morning, the Irish minister for foreign affairs met the Israeli ambassador after summoning him to express "outrage" at the deaths and injuries in Gaza.
Tánaiste (deputy prime minister) Simon Coveney called on Israel to show restraint in the hours and days ahead.
Ireland has called for an independent international investigation into the deaths, with the UN taking the lead.
The meeting between Mr Coveney and Israeli ambassador Zeev Bokar took place between 08:00 and 08:30 BST on Tuesday.
In a statement released afterwards, a spokesperson for Mr Coveney said: "Our mission in Ramallah reports that emergency responders in Gaza and the Strips' health services are overwhelmed with the level of casualties.
"The health system was already facing major challenges due to lack of equipment and essential medicines."
The statement said that Ireland was also "very disturbed" by reports of injuries suffered by health workers. The World Health Organisation (WHO) has reported 211 attacks on those attending to the injured during mass demonstration at the border fence.
Funerals are to be held in Gaza for the 58 people killed.
The burials coincide with the 70th anniversary of what Palestinians call the Nakba - the mass displacement of Palestinians after Israel's creation.
Palestinian officials said that, as well as those killed, about 2,700 people were injured in Monday's violence - which they condemned as a massacre.
Israeli PM Benjamin Netanyahu said his military was acting in self-defence against Gaza's Islamist rulers, Hamas, who he said wanted to destroy Israel.
But the United Nations human rights office was heavily critical of Israel's use of force.
"The mere fact of approaching a fence is not a lethal, life-threatening act, so that does not warrant being shot," spokesman Rupert Colville told reporters in Geneva on Tuesday.
"How much threat can a double amputee be making from the other side of a large fortified fence?" he added.