Anne Frank's 'dirty jokes' found in hidden diary pages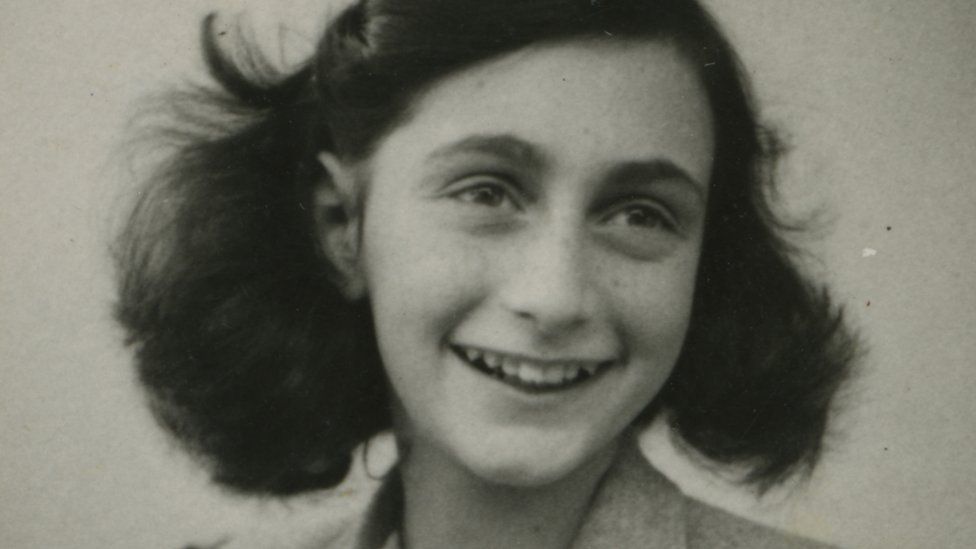 Two new pages from Anne Frank's diary have been published, containing a handful of dirty jokes and her thoughts on sex.
The young Jewish teen's diary, written in hiding from the Nazis, became world-famous when published after her death and at the end of the war.
The hidden pages had been covered with gummed brown paper - apparently to hide her risqué writing from her family.
New imaging techniques have finally allowed researchers to read them.
The entries were written on 28 September 1942, not long after the 13-year-old Anne went into hiding.
"I'll use this spoiled page to write down 'dirty' jokes", she wrote on a page with a handful of crossed-out phrases - and jotted down four dirty jokes she knew.
She added a few dozen lines about sex education, imagining she has to give "the talk" to someone else, and mentioning prostitutes - who she wrote elsewhere that her father had told her about.
"Anne Frank writes about sexuality in a disarming way," said Ronald Leopold of the Anne Frank House museum in Amsterdam. "Like every adolescent she is curious about this subject."
The sentiment was echoed by Frank van Vree, director of the Niod institute, which helped decipher the pages from new photographs taken in 2016.
"Anyone who reads the passages that have now been discovered will be unable to suppress a smile," he said.
"The 'dirty' jokes are classics among growing children. They make it clear that Anne, with all her gifts, was above all also an ordinary girl."
One of the jokes reads: "Do you know why the German Wehrmacht girls are in the Netherlands? As mattresses for the soldiers."
The Anne Frank Museum said this was not the only time the teenage girl wrote about sex - mentioning other jokes she had heard the people in her hidden home tell, or the passages about her periods and sexuality.
Writing about the decision to publish pages that Anne clearly wanted to keep hidden, the museum said that her diary - a Unesco-registered world heritage document - held significant academic interest.
But it also said that the pages "do not alter our image of Anne".
"Over the decades Anne has grown to become the worldwide symbol of the Holocaust, and Anne the girl has increasingly faded into the background," it said in a statement.
"These - literally - uncovered texts bring the inquisitive and in many respects precocious teenager back into the foreground."
Anne Frank went into hiding in a secret annexe of her father's business on 5 July 1942 - about a month after she received a diary for her 13th birthday.
She lived there with her family and their friends, the Van Pels, until their discovery two years later. How they were found after so long in successful hiding remains a mystery.
Anne Frank died of disease in a Nazi death camp in 1945, the year the war ended. Her father, the only family member to survive, published her diary in 1947.