Hungary boy gets death threats for inadvertently killing meerkat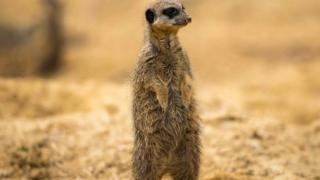 A 12-year-old Hungarian boy has received death threats on social media after he inadvertently killed a meerkat that bit his finger at a zoo.
The boy was visiting the Kecskemet zoo in central Hungary when he reached through a fence and was bitten.
He then shook the meerkat so hard to the ground that he broke its back.
Zara the meerkat was one of the prize attractions at the zoo and the incident, which occurred on 14 May, has been met with anger and condemnation.
The boy, who was on a visit to the zoo as part of a school outing, is said to have ignored warning signs that meerkats bite before reaching through a fence to get closer to the animals.
News of the death of Zara, who was pregnant, spread after the director of the zoo, Tamás Tokovics, posted a heartfelt description of the incident. It escalated into a big national story.
Mr Tokovics wrote that the meerkat had become part of his family when he cared for it at home while its run was being prepared at the zoo.
Zara's death was partly due, he wrote, "to the fact that the youth of today do not respect nature".
Mr Tokovics also pointed the finger of blame at teachers who are "less and less able to control their pupils" and parents who are "too busy to teach their children respect".
However, despite a call by Mr Tokovics not to target the pupil responsible, the 12-year-old has since been the subject of an outpouring of personally abusive messages and death threats posted on social media.
One social media user wrote that the boy "should be smashed to the ground so hard he doesn't get up again".
The boy's father has also spoken out about the incident, accusing the zoo of not taking better care of its animals.