Jastine Valdez: Post mortem finds woman was strangled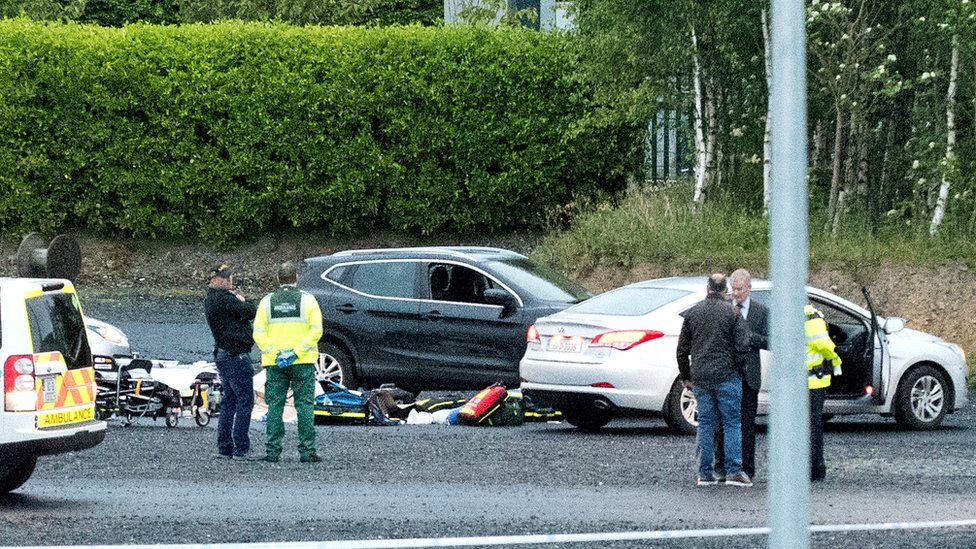 The woman abducted near her home in County Wicklow died by strangulation, Irish police have confirmed.
A post mortem examination took place on Tuesday to establish how 24-year-old Jastine Valdez died.
Gardaí (Irish police) had been searching for Ms Valdez after witnesses saw the student being bundled into a car near Enniskerry on Saturday.
Her body was found in the Puck's Castle area of County Dublin on Monday.
A blood-stained note found in the car driven by her suspected killer Mark Hennessy is to be forensically analysed.
Mr Hennessy, 40, was shot dead by police in Cherrywood in south Dublin on Sunday night.
Police are investigating Mr Hennessy's background.
The Wicklow father of two had a previous conviction for assault a number of years ago, but he was also facing a drink-driving charge after he had been arrested last year, RTE reports.
Officers thanked the public for their help with the investigation and appealed for privacy for the Valdez family.
It was reported that Ms Valdez's purse was found by Gardaí in the Rathmichael area of County Dublin on Monday morning.
Search teams were in Rathmichael and also searched an area known as the 'Scalp', while a walk on Killiney Hill was cordoned off.
The Garda helicopter conducted an aerial search of the area while members of the Irish Defence Forces and Civil Defence were called in to help.
It is understood Mr Hennessy was armed with a knife when he was shot.
A Garda statement said officers had "interacted with the driver" of a black Nissan Qashqai in Cherrywood at about 20:00 local time on Sunday.
It added that an "official Garda firearm was discharged" during the incident.
The shooting has since been referred to the Republic of Ireland's police watchdog for an independent investigation.
Officers searching for Ms Valdez had appealed for information about the suspected abduction of a woman on the R760 road out of Enniskerry, around the same time she disappeared.
A woman walking along the road was reportedly forced into a black Nissan Qashqai, registration 171 D 20419, at about 18:15 local time on Saturday.
A phone belonging to Ms Valdez was later found near the Powerscourt Estate in Enniskerry and the area was cordoned off for investigation.
An incident room has been established at Bray Garda Station.
Sunday Times journalist John Mooney said that after the abduction reports, police viewed CCTV footage and traced a vehicle to Mr Hennessy.
They visited his home in Bray, County Wicklow, but his partner said he was not there.
Mr Mooney said there was no known link between Mr Hennessy and Ms Valdez.
"The words abduction and ransom have been mentioned to me, but some of the more established detectives working on this case are stating that maybe there's some connection that hasn't been established just yet," he said.
"But at the moment there is no clear link between the two."