French Muslim student Maryam Pougetoux hits back over headscarf claims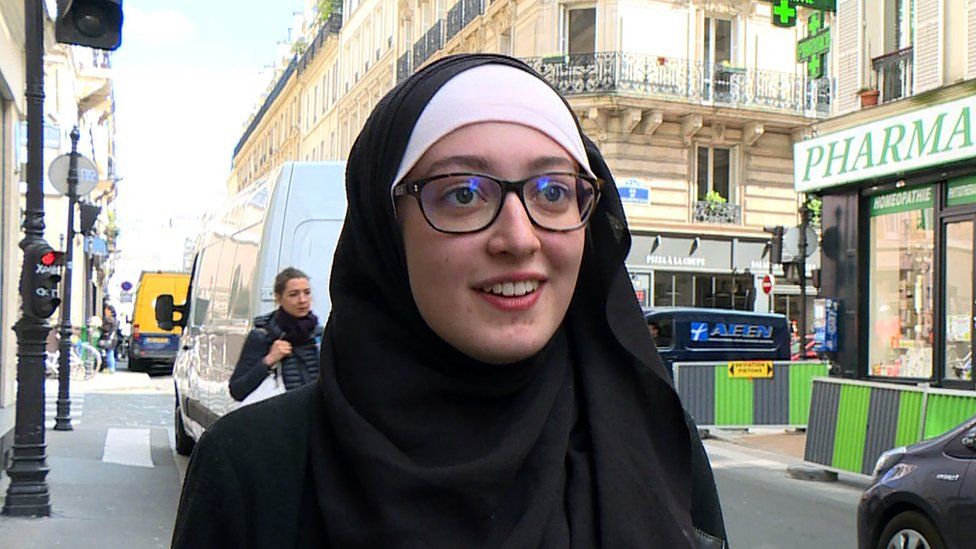 A French student union leader who has been accused by ministers of using her headscarf for political gain has hit back, calling the claims "pathetic".
France's interior minister has personally criticised Maryam Pougetoux, who is Muslim, for being interviewed while wearing her headscarf.
"It's my faith," the student told Buzzfeed News, adding: "[My hijab] has no political function."
Ms Pougetoux, 19, is the president of the student union at Paris's Sorbonne.
She appeared in a documentary talking about student protests against the French president's educational reforms while wearing a hijab, or Muslim headscarf.
The French Equality Minister Marlene Schiappa said it was a "form of promotion of political Islam", adding that the students' union Unef "should tell us what values it wants to promote, clearly and coherently".
Meanwhile, Interior Minister Gérard Collomb said Ms Pougetoux's appearance in a hijab was a "provocation" that he found "shocking".
Wearing the Muslim headscarf was banned in French schools and some other public buildings in 2004 but it remains legal in universities.
"I did not expect it to go up so high that it's almost a state affair. It is rather pathetic for a minister of the interior to make such remarks," she said.
Students began demonstrating in March over plans to give public universities the power to set admission criteria for basic degree courses for the first time. This is in contrast to the present policy which guarantees graduates a place at a public university.
Ms Pougetoux has also been the target of abuse on social media and said she had received "hate messages" after her phone number was shared online.
She told Buzzfeed she felt "fear" and that she had to be "careful" in public "because I did not know what could happen".
The student union has said that Ms Pougetoux is a victim of "racist, sexist and Islamophobic hatred".
France and the Muslim headscarf
A ban on Muslim headscarves and other "conspicuous" religious symbols at state schools in France was introduced in 2004.
It received overwhelming political and public support in a country where the separation of state and religion is enshrined in law.
In 2011, France became the first European country to ban the full-face Islamic veil in public places, while alternatives such as hijabs, which cover the head and hair, remained legal.
Under the ban no woman, French or foreign, is able to leave their home with their face hidden behind a veil without running the risk of a fine.
Former French President Nicolas Sarkozy, whose administration introduced the ban, said veils oppress women and were "not welcome" in France.
France has about five million Muslims - the largest Muslim minority in Western Europe - but it is thought only about 2,000 women wear the full-face veil.