German firm apologises for 'racist' post linked to Meghan Markle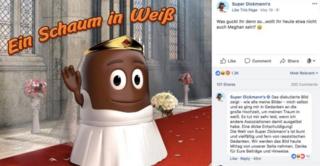 A German company has apologised after posting an image of a chocolate-covered marshmallow sweet in a bridal dress on the day of the wedding of Prince Harry and Meghan Markle.
Super Dickmann's post of a Schokokuss (chocolate kiss) included the caption: "What are you looking at? Wouldn't you also want to be Meghan today?"
Some social media users said the now-deleted image was "racist".
A spokesperson for the company called the post "stupid and embarrassing".
After users denounced the post on the company's Facebook page, Super Dickmann's wrote: "A big pardon! The world of Super Dickmann's is colourful and diverse and far from racist thoughts."
The post has been deleted but images of it have circulated on social media.
The image of the Schokokuss, a well-known German sweet, appeared inside a cathedral with the words "a foam in white", a reference to its creamy interior, a pun on the phrase "a vision in white".
Spokesman Bernd Roessler said the firm had not put enough thought into the post.
Links between the sweet and racism are not new as it used to have a far more offensive name in Germany and elsewhere, roughly translated as black person's kiss.
German public broadcaster ZDF has also come in for criticism for its coverage of the royal wedding, with people on social media saying some of the comments during its programming were "racist".
The controversial remarks included describing Ms Markle as "exotic" several times, saying that the Queen was "turning a blind eye to Meghan" and that the gospel singers of the Kingdom Choir "sang beautifully black".
ZDF rejected the claims saying it was appropriate to address Ms Markle's origins, newspaper Der Spiegel reports.
Signs of 'institutional racism'?
By Jenny Hill, BBC Berlin correspondent
Last weekend Berlin's annual carnival of culture drummed and danced its way through crowded city streets. People dressed in the national costumes of countries like Colombia, Ghana, Albania, Japan and Senegal paraded together in the May sunshine. This is how Germany likes to present itself: multicultural and open to people of all ethnicities.
But last year, after spending just a week here, a team of UN inspectors accused the country of "institutional racism", claiming that people of African descent experienced discrimination on a daily basis. Regular outbursts of xenophobia from the far-right AfD are well reported - usually to widespread disgust.
But the party's openly racist election campaign saw them enter the Bundestag for the first time last year. And a recent investigation found that people with Arabic or Turkish surnames were likely to be rejected by landlords in favour of those with obviously German names.
Perhaps Germany is no worse than many other former colonial powers in its racism - conscious or otherwise. But, given the country's past, it is surprising and, for many, a source of great shame.
You might also be interested in: