Extra 100,000 added to Ireland's voting register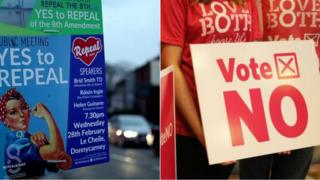 More than 100,000 extra people have been added to Ireland's voting register ahead of a vote on its abortion laws on Friday.
The referendum will decide whether to repeal a constitutional amendment that effectively bans terminations.
In total, more than 3.2 million people are now registered to vote, according to the Department of Housing and Local Government.
Dublin City Council recorded the most new registrations at 19,805.
There were more than 65,000 extra registrations added to the register for the same-sex marriage referendum in 2015.
Breakdown
The highest numbers of new registrations were concentrated in Ireland's most populated counties like Dublin, Cork and Galway.
While Dublin City Council recorded the highest number, it was followed by Dun Laoghaire-Rathdown at 9,729.
Cork County Council added 9,049 to its voting register, Kildare County Council added 7,413 and Fingal County Council in Dublin added 6,908.
The lowest numbers were in Leitrim (670), Roscommon (708) and Longford (841).
Voter registration drives
Many campaigners concentrated their efforts on voter registration drives earlier in May, before the application deadline.
Students' unions across the Ireland hosted large-scale registration campaigns, registering students on campus.
At the start of May, Irish student unions' had registered 26,979 new voters, according to the Union of Students in Ireland (USI).