Dresden WW2 bomb defused after tense days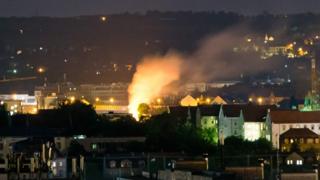 German experts have defused a World War Two bomb in the eastern city of Dresden after 48 hours of tension, including an explosion and fire.
The police announcement came after a firefighting robot had doused the 250kg (550-pound) bomb with cold water so that it could be made safe.
The first attempt to defuse it, on Wednesday, failed and caused a small explosion and fire, when sparks ignited insulation material placed around it.
Police have now lifted a safety cordon.
Their relief was apparent in a tweeted message: "The aerial bomb has been defused!"
German MDR news says flights to and from Dresden airport are resuming. They had been suspended while the bomb posed a risk.
British and American bombers devastated the city in the war.
The bomb was found on Tuesday during construction work at the intersection of two streets - Löbtauer and Werner - in central Dresden.
About 9,000 people who were living near the site have spent two nights in emergency accommodation.
They include many elderly people evacuated from two care homes, some of them old enough to remember the city's destruction in 1945.
An estimated 25,000 people died in the British and American bombing of Dresden in February 1945. It created a firestorm that left 33 sq km (12 sq miles) of the city in ruins.
The intense Allied air campaign against Nazi Germany left a legacy of thousands of unexploded bombs. Builders regularly unearth such bombs in German cities.
The northern city of Kiel is preparing to make a bomb safe on Friday - an operation that will involve evacuating about 4,300 residents.
Last month about 10,000 people were evacuated in central Berlin during a successful operation to defuse a British wartime bomb.