Anastasia Kriegel: Teenage boy in court over murder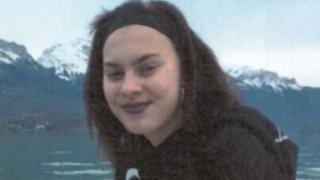 A 13-year-old boy has appeared in court charged with the murder of a teenager who was found dead in County Dublin last week.
Anastasia Kriegel's body was discovered in a disused farmhouse on the Clonee Road in Lucan on 18 May.
The 14-year-old, known as Ana, was last seen at St Catherine's Park at 17:30 local time on the previous Monday.
A police officer told the children's court on Friday evening the accused made no reply when he was charged.
Judge John O'Connor said he had no jurisdiction to grant bail, as, in a case of murder, bail can only be granted by the High Court.
The judge also warned that no name, address or picture that could identify the boy be published and he said he was particularly referring to social media.
He said he wanted to make it absolutely clear that people on social media were answerable to the court and there would be a prosecution if the boy was identified.
The accused was remanded in custody to Oberstown Detention Centre to appear at the Children's Court again on 1 June.
A second boy arrested in connection with the investigation has been released without charge.