Two French teenagers charged over Despacito YouTube hack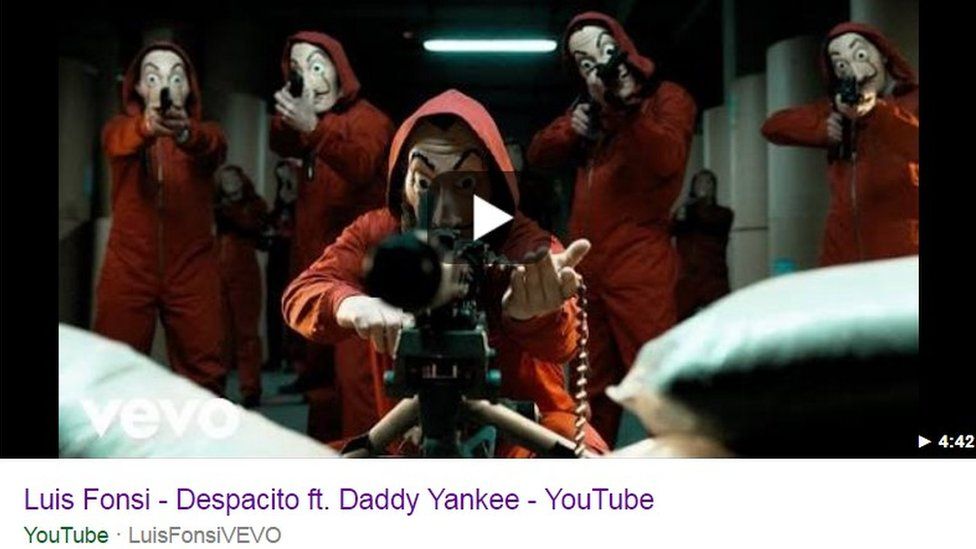 Two 18-year-old French citizens have been charged in Paris following a hack of popular music videos on YouTube.
The hackers targeted a string of videos last year, including the hit song Despacito - the most-watched YouTube music video of all time.
They replaced the cover image for Despacito with an image of masked, hooded figures pointing guns.
The Paris prosecutor's office named the two suspects who were charged only as Nassim B and Gabriel KAB.
The suspects were first identified by police by their respective online handles, Prosox and Kurois'h, the prosecutor's office said.
The hackers gained access to the YouTube account of the popular music video platform Vevo, altering the cover images of songs and attaching pro-Palestinian messages to some.
As well as Despacito, by Puerto Rican singer Luis Fonsi, the hackers also targeted videos by other pop stars, including Selena Gomez, Taylor Swift, Katy Perry, Chris Brown, and Shakira.
Vevo removed the Despacito video - which had been viewed more than five billion times - while it blocked the hackers' access and fixed the changes.
Paris investigators worked on the case with assistance from the Manhattan District Attorney's Office in New York, where Vevo is based.