France wine auction: 1774 Vin Jaune fetches record price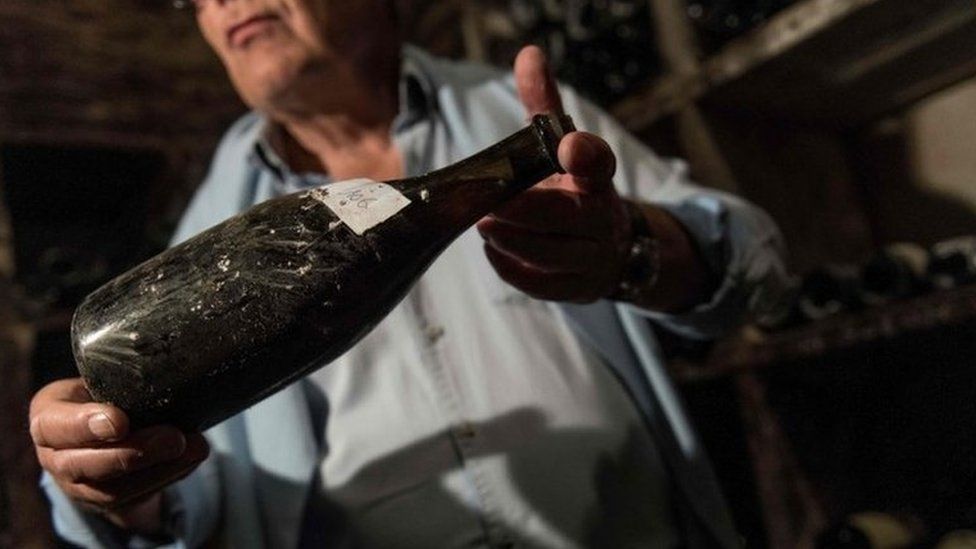 A bottle of wine dating back to 1774 has sold at auction in eastern France for a record €103,700 ($120,800).
The bottle of Vin Jaune (yellow wine) comes from the eastern Jura region and was made using grapes harvested during the reign of King Louis XVI.
At the same auction, another bottle of the same vintage fetched €76,250, and a third was sold for €73,200.
The three 87cl bottles of Vin Jaune were made by the winemaker Anatoile Vercel.
They were in the possession of his descendents in Arbois, the winemaking heart of the Jura region, and are believed to be among the oldest existing wines in the world.
The buyers were Canadians and someone who used to purchase wine for Americans with links to France, AFP news agency quoted auctioneer Brigitte Fenaux, of the Jura Encheres auction house, as saying.
"I didn't think that these bottles would sell for so much. The last record set in 2011 was €57,000," she said.
"There were winemakers in the room who applauded, who were happy, it was moving."
AFP reports that in 1994, a tasting panel of 24 wine experts rated the wine as a 9.4 out of 10.