Spain's Podemos leader survives confidence vote over house purchase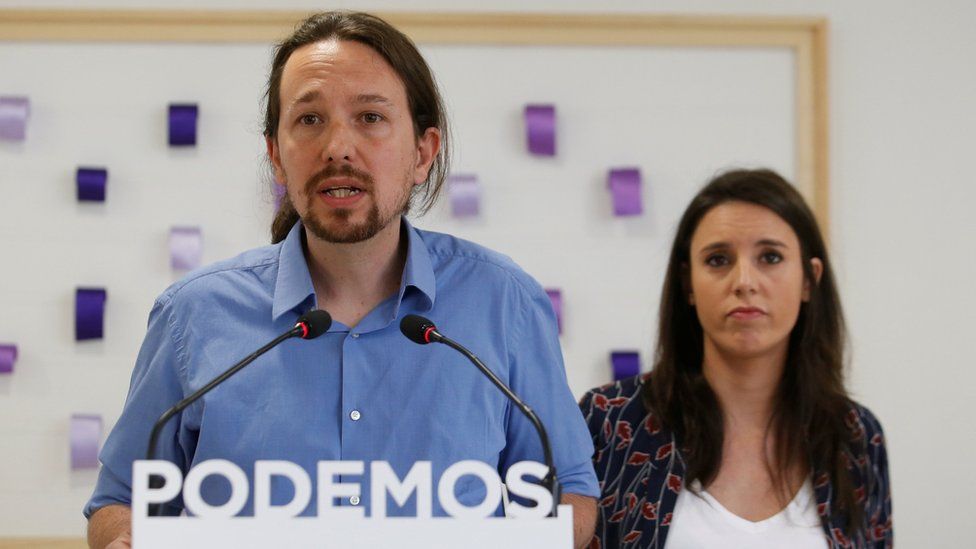 The leader of Spain's left-wing Podemos (We Can) party and his partner have survived a confidence vote triggered by their decision to buy a luxury home.
Pablo Iglesias and Irene Montero, the party's spokeswoman, were accused of hypocrisy for spending €600,000 (£527,000; $700,000) on a house with a swimming pool and guest quarters.
Mr Iglesias has previously criticised politicians who live "in villas".
The couple secured 68.4% of nearly 190,000 votes cast.
They called the online vote earlier this month following an outcry over their decision to buy the house on the outskirts of Madrid.
Some rank-and-file members said it undermined the party's grassroots credibility.
Voters were asked: "Do you think Pablo Iglesias and Irene Montero should continue as party leader and party spokesperson?"
The couple, who are expecting twins, defended the purchase, saying the home was for their own use and was not a speculative investment.
Mr Iglesias formed Podemos in January 2014 with a group of fellow left-wing university lecturers.
The party had grown from an anti-austerity protest movement calling for radical change amid soaring unemployment and cuts to public services.
Mr Iglesias said its success marked the birth of "a new Spain" and the death of decades of two-party politics.
He has previously made much of the fact that he lived in modest accommodation in the working class Madrid neighbourhood of Vallecas and that he bought his clothes in supermarkets.