Former bank boss guilty of multi-billion euro fraud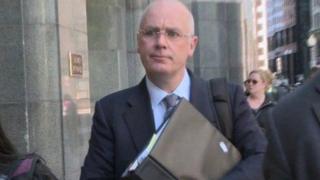 Former Anglo Irish Bank chief executive David Drumm has been found guilty of fraud.
The jury spent more than 10 hours deliberating before coming to a unanimous verdict at Dublin Circuit Criminal Court on day 86 of the trial.
Drumm pleaded not guilty to conspiring to dishonestly make Anglo's balance sheet look better by €7.2 bn (£5.4bn) between March and September 2008.
He also denied knowingly giving false figures to the market that December.
The prosecution said the 51-year-old did this deliberately and dishonestly to induce people to invest in, or leave their money in, Anglo even when he and others knew it was in trouble.
Analysis: Shane Harrison, BBC NI Dublin Correspondent
National economic crashes are always more complex and complicated than the misdemeanours of one man or one bank, but there is no doubt that the Anglo-Irish Bank led by David Drumm played a central role in the collapse of Ireland's Celtic Tiger economy.
He is not the first Irish banker to have been found guilty of criminal offences, but there was a sense that the trials of others rather resembled Hamlet without the ghost during a period when he was in the United States trying to avoid extradition.
There was little sympathy for a man who joked in a taped phone conversation about "Deutschland über alles" as money was flowing into the bank from Germany; this was just before Anglo collapsed costing the Irish tax payer an estimated €30bn (£26.3bn).
The ghost has yet to be sentenced, but other convicted bankers have been jailed overturning the public perception that no one would see a prison cell because of their role in the death of the Celtic Tiger.
Lawyers for Drumm said the transactions were not dishonest and were legitimate balance sheet management carried out openly and transparently while trying to protect the bank.
Anglo Irish, which was nationalised in 2009 and wound down from 2011, was synonymous with the lending practices that drove the 'Celtic Tiger' boom and subsequent bust, pushing the Republic of Ireland to the brink of meltdown in 2010.
Mr Drumm moved to the US in 2009 but was extradited in 2016.