King of Tory Island to get civic reception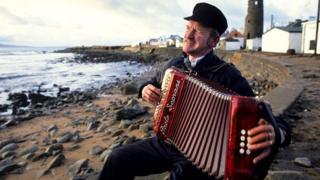 The King of Tory Island, Patsy Dan Rodgers, is to attend a civic reception in Donegal for his commitment to the island.
Mr Rodgers, an artist and musician, is Tory Island's best known resident and campaigned against the government's plans to resettle the islanders on Donegal's mainland following storms in 1974.
The 74-year-old has contributed to the upkeep of the island.
He was elected king in 1993.
'Completely overwhelmed'
He has lived on the 5km-long and 1km-wide County Donegal island since he was four.
There are more than 100 inhabitants, one road, one church, one grocery shop, one lighthouse, one hotel, one hostel and one social club.
"I'm completely overwhelmed," Mr Rodgers told BBC News NI.
"My goodness I'm shocked. It's powerful news for me and the community here.
"It's an honour to be the King of Tory Island. I love the place so much.
"If I'm still alive in 2020 we are hoping to have a new modern ferry. We've been promised that and it would be fantastic for everyone.
"We'd love to have more visitors and recognition.
"I pray the culture and this island lives on because it's my passion."
Today, the king undertakes duties such as ambassadorial obligations on the mainland and abroad; welcoming visitors when they arrive at the harbour and saying goodbye to them when they leave.
King Rodgers also entertains tourists at night by playing the accordion or telling them stories about his home land.
He is also a painter. Together with Tory's other artists, he keeps alive the island's 50-year-old tradition of primitive painting, which was started by English painter Derek Hill when he first visited Tory in 1956.