Pompeii victim crushed by boulder while fleeing eruption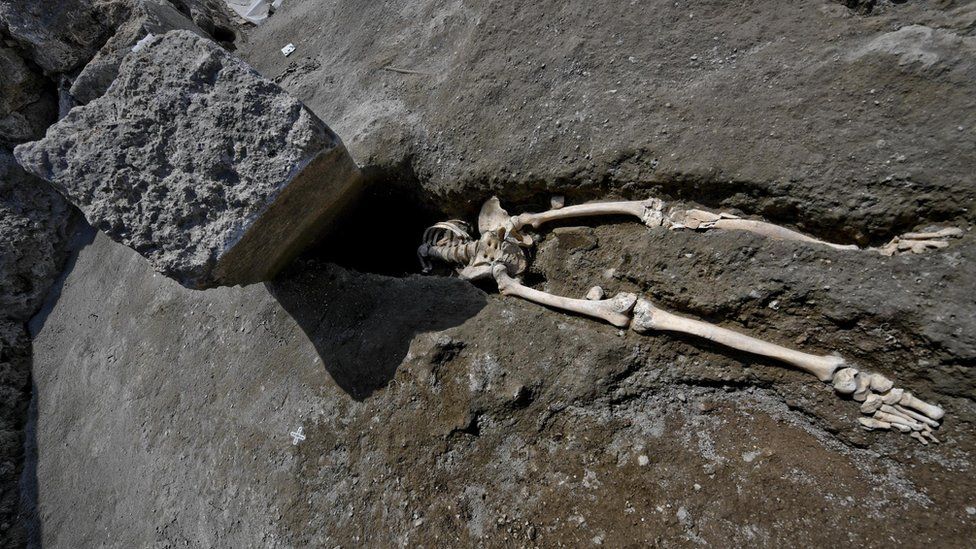 Archaeologists at Pompeii have uncovered the remains of an unfortunate man who was decapitated by an enormous rock while fleeing the volcano.
Nearby Mount Vesuvius erupted in 79 AD, killing many Pompeii residents and famously freezing them in place.
This skeleton appears to be from a man who survived the initial explosion and was fleeing the doomed city.
A leg injury, however, may have slowed him down before he was crushed by the huge stone hurtling through the air.
Pompeii archaeologists say the skeleton shows signs of a bone infection in his leg, which could have made walking - much less running - very difficult.
But it was not slow-moving molten lava that killed most of the people of Pompeii. Instead, a vast cloud of hot gas and fragments - called a pyroclastic flow - surged over the city, killing its inhabitants wherever they were, and burying them in ash, preserving their final moment.
Archaeologists believe it was this lethal cloud which struck their newest discovery, throwing him backwards as he turned to look at it.
The man, believed to be in his 30s, was found on the first floor of a building, above the layer of small stones carried by the cloud.
But the force of the erupting gas and rock also picked up an enormous rock - which experts think might have been a door jamb (the vertical part of a door frame) - and hurled it at the victim, crushing his upper body near the throat and possibly removing his head, which is missing.
Archaeologist Massimo Osanna said the skeleton was an "exceptional find".
Apart from the "emotional impact" of these discoveries, they allow archaeologists to study the people of the city, and even how they tried to escape the eruption of Vesuvius.
This latest discovery is part of fresh excavations in Pompeii undertaken using modern technology.