Lithuania and Romania complicit in CIA torture - European court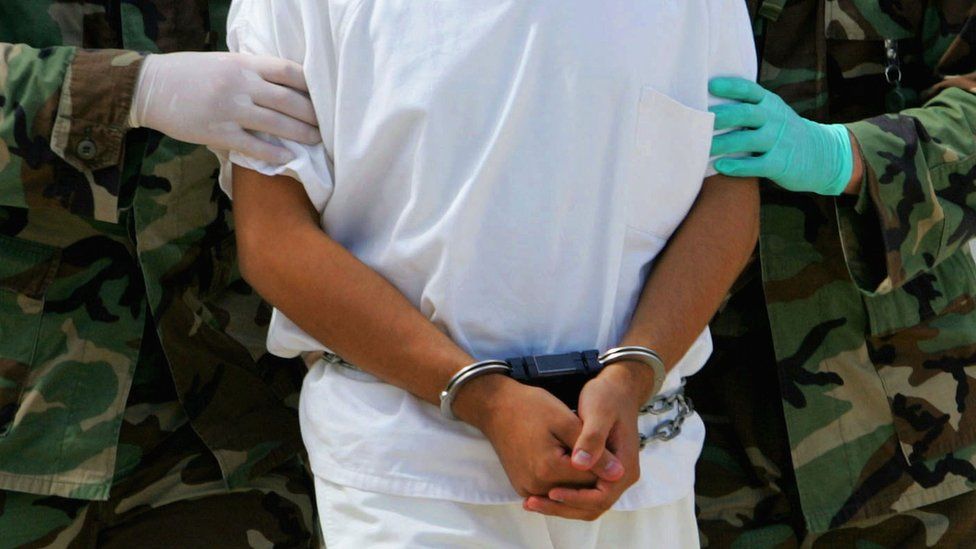 European judges have ruled that Lithuania and Romania violated the rights of two al-Qaeda terror suspects by allowing the CIA to torture them.
The US captured Abu Zubaydah and Abd al-Rahim al-Nashiri after the September 2001 attacks in the US and they are now at the Guantanamo Bay prison in Cuba.
The CIA operated secret prisons, including in Lithuania and Romania.
The European Court of Human Rights (ECHR) said both countries had violated the European prohibition of torture.
Lithuania and Romania were ordered to pay €100,000 (£88,000; $117,000) in damages each to Abu Zubaydah and Abd al-Nashiri, respectively. The ECHR was unable to visit the suspects at Guantanamo.
The existence of the so-called CIA "black sites" for interrogation - under the so-called "secret rendition" policy - was kept secret for many years after 9/11.
Abu Zubaydah, a stateless Palestinian born in Saudi Arabia, is thought to have been al-Qaeda's chief recruiter in the 1990s, and later became a key organiser, linking Osama Bin Laden to other al-Qaeda cells.
Saudi-born Abd al-Nashiri led al-Qaeda's operations in the Gulf region, according to US intelligence. He allegedly masterminded the attack on the USS Cole in Yemen in 2000, which left 17 dead.
Read more on the US 'war on terror' against al-Qaeda:
The ECHR ruling said Romania hosted a CIA prison in 2003-2005, where Abd al-Nashiri was subjected to "an extremely harsh detention regime".
The ruling said he suffered "inhuman treatment... which Romania had enabled by co-operating with the CIA".
The same verdict was issued against Lithuania, concerning Abu Zubaydah. The CIA prison in Lithuania operated in 2005-2006.
The ruling said the suspects were not subject to the harshest interrogation techniques in Lithuania and Romania - that happened in other prisons. But both countries had helped the CIA and failed to properly investigate the prisoners' conditions.
The judges cited CIA documents, according to which terror suspects were subjected to blindfolding or hooding, solitary confinement, the continuous use of leg shackles, and excessive exposure to noise and light.
Both Lithuania and Romania had enabled the CIA to transfer the suspects to other prisons, exposing them to "a foreseeable serious risk of further ill-treatment".
Analysis: The 9/11 effect
By Frank Gardner, BBC security correspondent
Today's ruling by the ECHR is an uncomfortable reminder of past practices that are now, rightly, seen as abhorrent and unacceptable.
In the years immediately following the 9/11 attacks, there was enormous pressure on many countries' intelligence agencies to find out where the next big al-Qaeda attack would come from.
This led to a "gloves off" approach to interrogation by the CIA and other agencies, with the encouragement of the George W Bush administration in the White House at the time.
Intelligence officers have since spoken about their unease at what they were being asked to do, but it was said there was a pervading atmosphere that if "enhanced interrogation" of suspects could save American lives, then it was worth bending the rules.
President Obama put a stop to this, banning the practice of water boarding, which has been condemned as tantamount to torture.
What else is known about Abu Zubaydah and Abd al-Nashiri?
It said al-Qaeda suspects were subjected to repeated waterboarding, slapping, stress positions and sleep deprivation. Waterboarding is simulated drowning and was condemned as torture by the Barack Obama administration.
Abu Zubaydah was kept confined in a coffin-sized box for hours on end, the report said.
He is thought to have been a top al-Qaeda operative who ran training camps in Afghanistan, where some of the 9/11 suicide hijackers trained.
The ECHR says the evidence shows that Abu Zubaydah was caught in Pakistan in March 2002 and was first moved to a CIA prison in Thailand. He was flown to another "black site" in Poland in December 2002.
He is believed to have been held in Lithuania from February 2005 to March 2006, when he was moved to Afghanistan and then to Guantanamo Bay.
Abd al-Nashiri faces a possible US death penalty, as military prosecutors have accused him over the USS Cole bombing and some other terror attacks. He allegedly also fought for the Taliban in Afghanistan.
Arrested in Dubai in 2002, he was held in CIA "black sites" in Afghanistan and Thailand. In December 2002 he was moved to another "black site" in Poland, and held there until June 2003, the ECHR says.
He is believed to have been held in Romania from April 2004 to October/November 2005, before his transfer to Guantanamo Bay in September 2006.
Related Internet Links
The BBC is not responsible for the content of external sites.