EU court overturns parliament's punishment of Polish MEP for sexism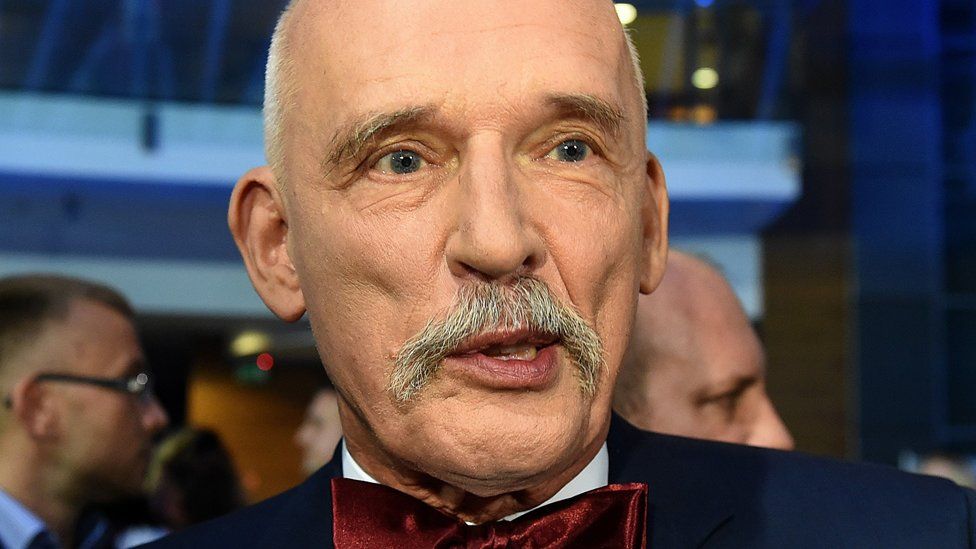 The EU's top court has ruled that the European Parliament was wrong to penalise a Polish MEP for controversial comments about women.
Janusz Korwin-Mikke, who is no longer an MEP, was suspended and lost his parliamentary allowances after making the remarks in 2017.
But judges ruled that his comments didn't merit the punishment.
The European Court of Justice (ECJ) said that, although shocking, Mr Korwin-Mikke's remarks did not risk disorder or racial hatred.
They said that Mr Korwin-Mikke's forfeited allowances - a total of €9,210 (£8,000; $10,700) - must be repaid.
The rules ban defamatory, racist or xenophobic language or behaviour.
"Despite the particularly shocking nature of the applicant's words, the parliament was not, in the present case, entitled to impose any disciplinary sanctions under... its rules of procedure," the judges based in Luxembourg ruled.
"The court therefore annuls the decisions of the bureau (the European Parliament's administration) contested by Mr Korwin-Mikke."
The parliament now has two months to appeal. Mairead McGuinness, a parliamentary vice-president, told MEPs in Strasbourg that the ruling would be studied.
Mr Korwin-Mikke, who was an independent MEP with his own political party, had been censured before by the European Parliament.
In 2016 he lost 10 days of attendance allowances and was suspended for five days for comparing Europe's influx of migrants to "excrement".
In October 2015 he was suspended for 10 days for making a Nazi salute in the chamber. Italian MEP Gianluca Buonanno was punished for the same offence.