Vladimir Putin: Western sanctions 'harmful for everyone'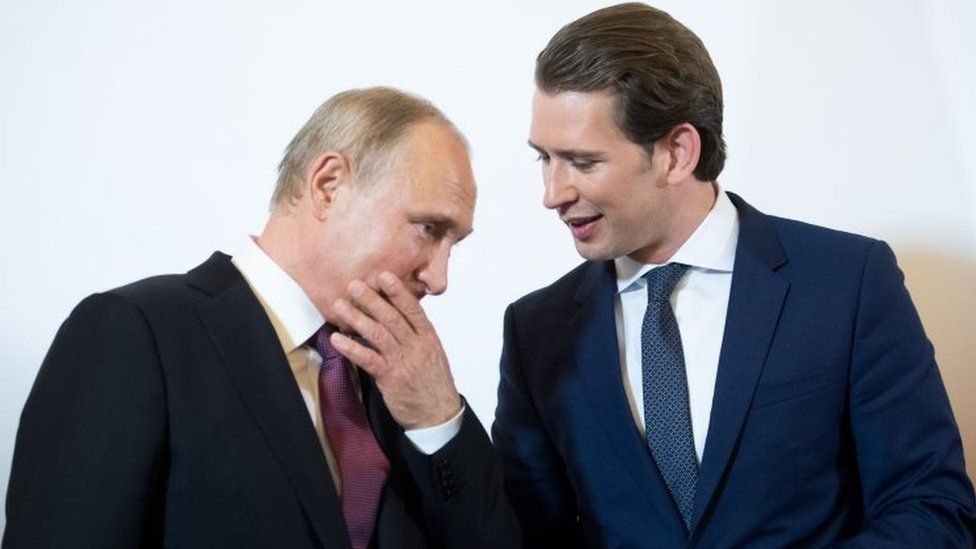 President Vladimir Putin has said Western sanctions against Russia are "harmful for everyone" and it is in everyone's interests to lift them.
Speaking in Austria, he said Russia had restored stable growth, despite the EU and US sanctions first imposed in 2014 after Russia annexed Ukraine's Crimea.
Austrian Chancellor Sebastian Kurz said his country wanted to act as a bridge between Moscow and the West.
But he said he would not break ranks within the EU on the sanctions issue.
It was Mr Putin's first trip to Western Europe in almost a year.
Ahead of his visit, the Russian leader said Moscow was not trying to split the 28-member EU.
A number of European liberals have expressed concern over close links between the pro-Putin United Russia party and far-right parties in the EU.
The two populist parties now ruling Italy favour closer ties with Moscow and are both Eurosceptic.
Italy's new government has openly called for a review of EU sanctions, starting with those that "threaten civil society in Russia".
What did Putin say in Vienna?
Referring to the Western sanctions, Mr Putin said: "These actions are harmful for everyone, both for those who initiate them and for those against whom they are directed.
"Everybody has an interest in getting the sanctions lifted, us too," he added.
Mr Putin said Russia had overcome all difficulties caused by the sanctions.
Russia's annexation of the southern Crimea peninsula sparked the sanctions, which were later ratcheted up as Russia helped separatists in eastern Ukraine.
Moscow has hit back with counter-sanctions on food and raw materials.
More than 10,000 people have been killed since the conflict began in eastern Ukraine.
Meanwhile, Chancellor Kurz said Vienna would "obviously maintain the decisions of the EU, including the sanctions" when Austria takes over the EU's rotating presidency on 1 July.
He stressed that the situation in eastern Ukraine must improve before the sanctions could be lifted.
What some call a "new cold war" between Russia and the West was also fuelled by Moscow's role in the Syrian civil war and the poisoning of a former Russian double agent, Sergei Skripal, and his daughter, in southern England.
The UK blamed the Kremlin for that attack; Russia furiously denied any role in it.
Pro-Putin activists have been accused of spreading "fake news" on social media to undermine the tough Western stance on Russia and help empower nationalists in the EU.
In an interview with Austria's ORF television ahead of his visit, Mr Putin played down the links between United Russia and Austria's far-right Freedom Party, the FPÖ.
The parties have a co-operation agreement, but the FPÖ denies claims it has received money from Moscow.
The party has some key posts in Austria's coalition government - it is in charge of the interior ministry and defence - and says it wants to get the EU sanctions on Russia lifted.
Unlike most EU governments, Austria's coalition did not withdraw diplomats from Russia over the poisoning of the Skripals in Salisbury.
Chancellor Kurz earlier said Austria would "decide pragmatically whether to co-operate with someone politically".
Italian Prime Minister Giuseppe Conte said Italy was in favour of opening up towards Russia, which represented a key partner for Italian business.
Austria, Italy and many other EU states depend on Russia for much - and in some cases all - of their natural gas.