Italy's Matteo Salvini shuts ports to migrant rescue ship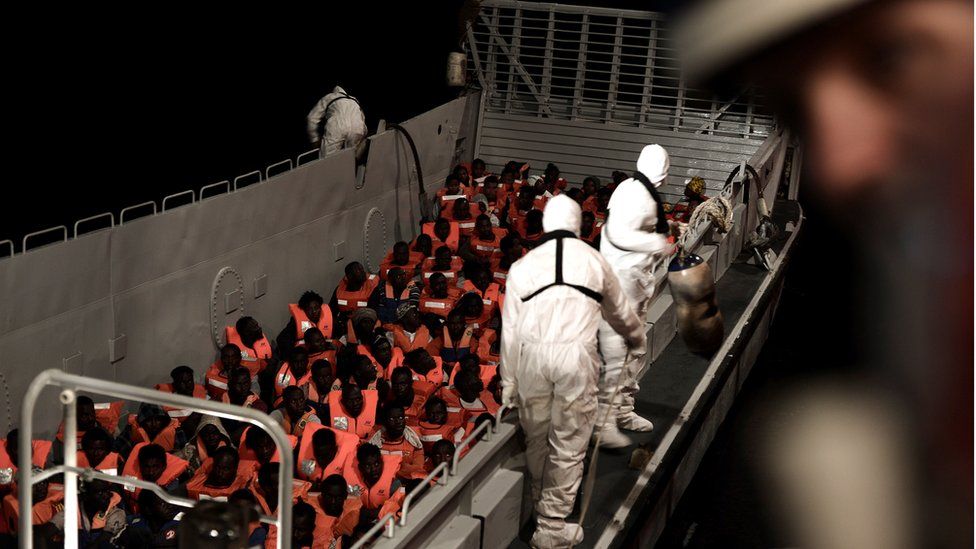 A rescue ship carrying 629 migrants is stranded in the Mediterranean after Italy's new interior minister refused permission for it to dock.
Matteo Salvini, leader of the right-wing League party, promised during Italy's recent general election to take a tough stance against migration.
He says Malta should accept the Aquarius, but it refused, arguing that it falls under Italy's jurisdiction.
Italy is the main entry for migrants crossing from North Africa to Europe.
German charity SOS Méditerranée says the ship has been instructed by the Italian Maritime Rescue Co-ordination Centre to stand by in its current position, 35 nautical miles (65km) from Italy and 27 nautical miles from Malta.
It says the migrants, many of whom are children, were picked up in six different rescue operations off Libya's coast.
Meanwhile, Mr Salvini says a second ship has rescued hundreds more migrants near Libya and is heading for Italy.
"Italy has stopped bowing its head to obey, this time there are those who say NO," he tweeted in response.
There are more than 600 people on board the Aquarius, and the majority were rescued by the Italian authorities and transferred to the ship.
Among those saved were 123 unaccompanied minors, 11 younger children and seven pregnant women, SOS Méditerranée says.
The minors are aged between 13 and 17 and come from Eritrea, Ghana, Nigeria and Sudan, according to a journalist on the ship, Anelise Borges.
"Most of them are sleeping outside. They are obviously exhausted, they have been exposed to the elements, they have been at sea for 20 to 30 hours prior to their rescue," she told the BBC.
"They are fragile and we have yet to learn what's going to happen to them," she added.
Skip twitter post by Anelise Borges
Allow Twitter content?
This article contains content provided by Twitter. We ask for your permission before anything is loaded, as they may be using cookies and other technologies. You may want to read Twitter's cookie policy, external and privacy policy, external before accepting. To view this content choose 'accept and continue'.
The BBC is not responsible for the content of external sites.
End of twitter post by Anelise Borges
Rules on disembarking and assisting rescue ships such as Aquarius are governed by international law.
The International Convention for the Safety of Life at Sea dictates that any ship learning of distress at sea must assist regardless of the circumstances.
It says that the country responsible for operations in that area has primary responsibility for taking them from the ship.
It also clearly states that the relevant government "shall arrange for such disembarkation to be effected as soon as reasonably practicable".
Given that the migrants were rescued off the coast of Libya, the closest ports are likely to be either Sicily in Italy or Malta, which is why there is a stand-off between the two countries.
Both the United Nations and the European Union have called for a quick resolution to the situation that will allow the migrants to be disembarked safely.
Why is Salvini refusing to assist?
As interior minister, Mr Salvini is a key figure in Italy's new populist government and he has promised to take a tough stance on migration.
The government is made up of the anti-establishment Five Star Movement (M5S) and the League, which is strongly anti-immigration.
Both parties insist that half a million undocumented migrants in Italy must be deported "as a priority".
But critics say its plan to repatriate these migrants is unworkable.
Earlier this month, Mr Salvini said during a visit to Sicily that it must stop being "the refugee camp of Europe".
He also says he is considering action against organisations rescuing migrants at sea. He has previously accused them of being in cahoots with people-smugglers.
On Sunday, he said that Italy was saying "no to human trafficking, no to the business of illegal immigration".
"Malta takes in nobody," he added. "France pushes people back at the border, Spain defends its frontier with weapons."
A spokesman for the Maltese government told AFP news agency Malta was "neither the co-ordinating nor the competent authority" in the rescue operation.
Skip twitter post 2 by Joseph Muscat
Allow Twitter content?
This article contains content provided by Twitter. We ask for your permission before anything is loaded, as they may be using cookies and other technologies. You may want to read Twitter's cookie policy, external and privacy policy, external before accepting. To view this content choose 'accept and continue'.
The BBC is not responsible for the content of external sites.
End of twitter post 2 by Joseph Muscat
Prime Minister Joseph Muscat insisted that Malta would not allow Aquarius to dock at its ports and said Italy's instructions to the boat were dangerous.
"They manifestly go against international rules, and risk creating a dangerous situation for all those involved," he said in a tweet.
A note on terminology: The BBC uses the term migrant to refer to all people on the move who have yet to complete the legal process of claiming asylum. This group includes people fleeing war-torn countries such as Syria, who are likely to be granted refugee status, as well as people who are seeking jobs and better lives, who governments are likely to rule are economic migrants.