Support for giving extra Irish MEP seats to Northern Ireland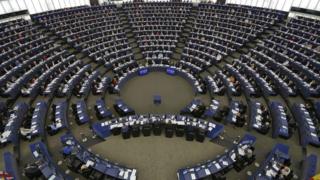 Calls to give the Republic of Ireland's extra seats in the European Parliament to Northern Ireland after Brexit have received support from a Fine Gael MEP.
Seán Kelly said it was "worth exploring," given that the majority of the electorate in Northern Ireland had voted to remain in the EU.
He said it would require agreement from Northern Ireland, the UK and the EU.
However, the Democratic Unionist Party (DUP) objected to the idea, saying it would "set a dangerous precedent".
DUP MEP Diane Dodds said Northern Ireland will leave the EU at the same time as the rest of the UK and added that non-EU residents are not entitled to voting rights in European elections.
It is expected two extra MEP seats will be allocated to the Republic of Ireland when the UK leaves the EU.
The European Parliament will see its total number of seats reduce from 751 to 705 after Brexit.
The UK will give up its 73 seats but not all of them will be redistributed immediately to other EU states.
It has been proposed that 46 will be held in reserve to accommodate potential new countries that may join the EU in the future.
It is also expected the remaining 27 British seats would be re-distributed among 14 EU countries that are "slightly under-represented" in the chamber.
That includes the Republic of Ireland, which would see its total number of MEPs rise from 11 to 13.
The idea of gifting the additional two seats to Northern Ireland has already been proposed by several Sinn Féin MEPs.
However, Mr Kelly is a member of the governing party, Fine Gael, and currently leads its group of MEPs in the European Parliament.
"Personally I wouldn't have any difficulty with it once it is worked out," Mr Kelly told Irish broadcaster, RTÉ.
"But obviously you would have to get agreement from Northern Ireland, the United Kingdom and the European Union."
---
Analysis - BBC News NI economics and business editor John Campbell:
The idea that Northern Ireland voters could effectively elect Ireland's two additional MEPs has been around for a long time.
Northern Ireland's two nationalist parties, Sinn Féin and the SDLP, like the idea and last year the European Parliament's Brexit negotiator, Guy Verhofstadt, also raised it as a possibility.
But the proposal got nowhere in the European Parliament - a major issue is that the Republic of Ireland is more restrictive than many other countries about who it allows to vote in European elections.
On the day Mr Verhofstadt first suggested it, Danuta Hubner, who chairs the Committee on Constitutional Affairs, pointed that out.
"It is amazing what you are saying because it is the Republic of Ireland which is against this idea of giving the right to vote to nationals in third countries - so we have a problem here," she said.
---
Mr Kelly, who is a former president of the Gaelic Athletic Association (GAA), was first elected as an MEP in 2009.
'No fixed party position'
"Definitely the majority of people in Northern Ireland voted to remain in the European Union. The citizens of Northern Ireland are all entitled to become citizens of Ireland if they so wish," he said.
"That would mean they would automatically become citizens of the European Union as a result.
"So it is worth exploring. But whether there would be agreement on it and if it would work in practice is a different matter. In principle, I don't see anything wrong with it."
A spokesman for Fine Gael told BBC News NI there was "no fixed party position" on calls to give the two extra MEP seats to Northern Ireland.
He added that until the Brexit deal is done, any commentary on the matter would be "pure speculation".
However, the DUP warned that "any attempt by an Irish government to allow for the election of representatives to speak on behalf of Northern Ireland would renege upon commitments given as part of the Northern Ireland peace process".
Mrs Dodds said: "Individuals from Northern Ireland can of course claim an Irish passport, and maintain EU citizenship as a result.
"However, those rights sit with the individual, and post-Brexit they do not confer any further rights than is appropriate to any EU citizen resident within a third country.
"EU treaties do not entitle non-residents to voting rights in European elections."