Prince Charles meets Sinn Féin leaders in Cork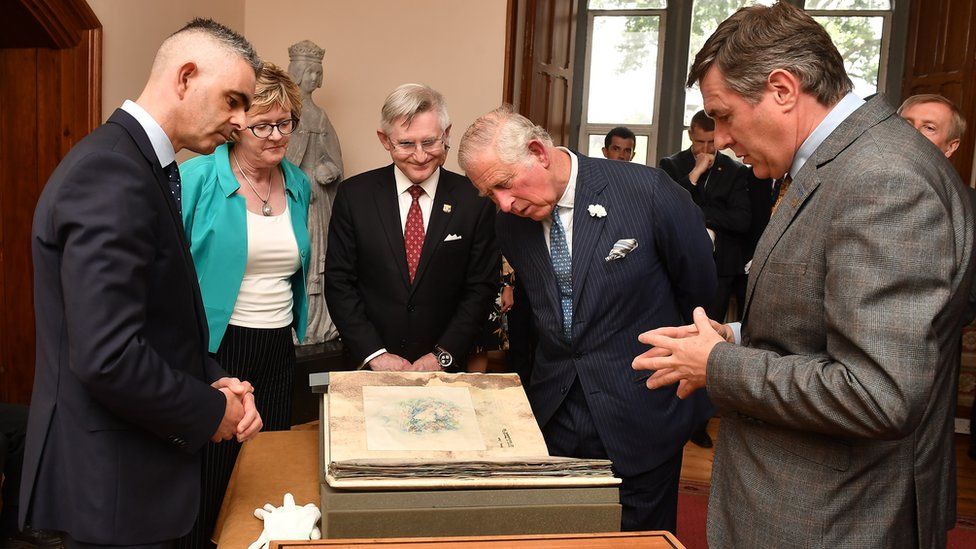 The Prince of Wales has held a private meeting with the leadership of Sinn Féin on Thursday.
Sinn Féin president Mary Lou McDonald and vice president Michelle O'Neill met with the prince in Cork.
The prince and his wife Camilla are on a two-day visit to the Republic of Ireland.
Ms McDonald said she was "glad to avail of the opportunity to extend the hand of friendship to those in Ireland who identify as British".
She added: "Today's meeting was an opportunity to extend the hand of friendship, not just to Prince Charles or to the British Royal family - whose efforts to promote reconciliation I want to acknowledge - but to those on our island who identify as British, and who are British.
"As I have stated previously, the Ireland I want to be part of building is a country where one can comfortably be Irish or British, both or neither.
"All identities and traditions on our island must be respected."
Prince Charles first met Sinn Féin's leaders in 2015, when he spoke with Gerry Adams and Martin McGuinness.
On Thursday, the royal couple began their visit to Cork with a walkabout at the city's English Market and a civic reception at City Hall.
Later, they had dinner with Irish deputy prime minister Simon Coveney.
The visit to the Republic comes after the prince spent Tuesday and Wednesday in Northern Ireland, where he visited north Belfast, Coleraine and Omagh.
Lord Mayor Councillor Tony Fitzgerald hosted a reception for the couple at Cork City Hall before the prince visited University College Cork, the National Maritime College and the Irish Naval Service base.
The prince boarded the LÉ William Butler Yeats ship as a symbol of the close maritime links between the UK and the Republic of Ireland.
He was briefed on about the Irish Naval Service's involvement in rescuing migrants in the Mediterranean.
The LÉ William Butler Yeats embarked on a three-month deployment in the Mediterranean last year during an intensive period of the European migrant crisis.
The crews of five Irish vessels have rescued over 14,000 people who were attempting to make the crossing to Europe from North Africa and the Middle East.
Irish Deputy Prime Minister Mr Coveney said the royal couple's visit enforced the "normalisation of a confident and independent Ireland today with its closest neighbour".
"Prince Charles has been to the island three times in the last three years - today he's seeing the best part of Ireland," he added.
The couple will spend Friday in County Kerry.