Hungary jails gang for deaths of 71 migrants in lorry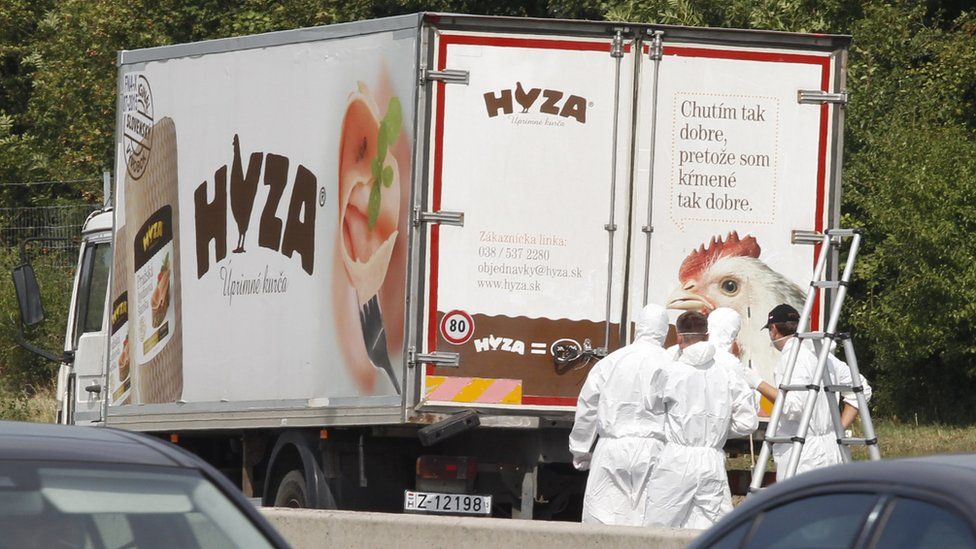 Four men have received 25-year jail terms in Hungary over the deaths of 71 migrants who suffocated in a sealed lorry in August 2015.
Police found the victims' decomposing bodies in the lorry, registered in Hungary and abandoned near an Austrian village.
It came amid a migrant surge to Europe.
An Afghan identified as the gang leader got 25 years, as did three Bulgarian accomplices. Ten others, all but one from Bulgaria, got shorter jail terms.
They were all found guilty of people-smuggling.
In 2015 Central Europe faced a huge influx of migrants, many of them fleeing Syria and other conflict zones.
The accused, on trial in the city of Kecskemet, can appeal against the verdicts. Most expressed remorse, but three of the Bulgarians remain at large and were tried in absentia.
What happened and who were the victims?
The victims came from Iraq, Afghanistan, Syria and Iran. They included eight women and four children; the other 59 were men. All but one were identified.
Crammed into the back of a small Volvo meat lorry, with standing room only, the 71 victims are believed to have suffocated less than three hours after it set off.
They died on a scorching hot day while the lorry was still in Hungary. It was found near Parndorf, just across the border in Austria.
The lorry, emblazoned with pictures of sausages and a chicken's head, had been sealed airtight.
According to the prosecution, the smugglers knew that the migrants squeezed into the back were going to die, and they ignored the sound of them banging on the sealed interior, as the oxygen ran out.
The alleged ringleader is Samsoor Lahoo, a 31-year-old Afghan. The evidence produced against him included a phone-tap recording in which he allegedly ordered the driver to keep going despite the victims' cries for help.
Lahoo and three Bulgarians - his deputy, the lorry driver and the driver of a car that escorted it - were found guilty of killing the migrants. Each got 25 years, with no chance of parole - less, however, than the life terms demanded by prosecutors.
The others got jail terms ranging from three to 12 years.
In all, nine Bulgarians, Lahoo and a Lebanese national were in court.
Prosecutors say the group was charging migrants up to €3,500 (£3,100; $4,100) per head and had planned two more smuggling journeys for 27 August - the day after the bodies were found.
Between February and August 2015 they smuggled 1,200 migrants into Austria via Hungary, earning at least €300,000, prosecutors said.
The tragedy fuelled an outpouring of sympathy for refugees and migrants, and was a catalyst in the decision in August 2015 to open borders and allow them to head on towards Germany. In 2015-2016 about one million were allowed to stay in Germany - a highly controversial decision.
But as the crisis continued into 2016 Austria's then foreign minister and now Chancellor, Sebastian Kurz, played a key role in shutting down the Balkan route used by migrants.
Barriers went up, including a formidable razor-wire fence on Hungary's southern border, completed in April 2017.