Ceuta and Melilla: Spain wants rid of anti-migrant razor wire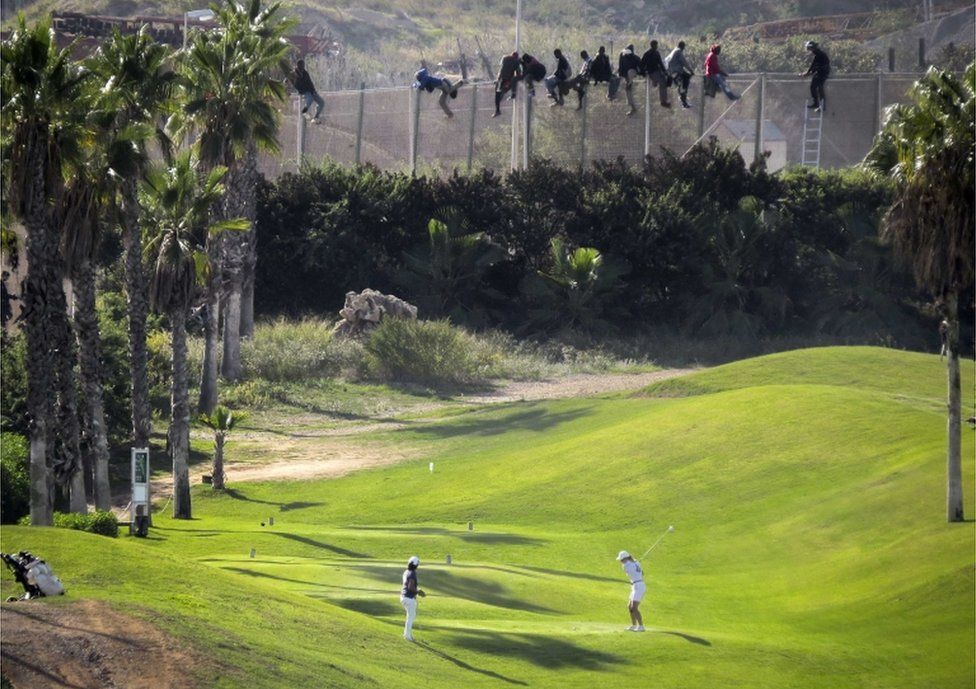 Spain's new interior minister has vowed to do "everything possible" to remove the "anti-migrant" razor wire fences, which separate Morocco from the Spanish territories of Ceuta and Melilla.
The tiny enclaves on Morocco's Mediterranean coast have become magnets for African migrants seeking a better life in Europe.
Injuries are common when "jumpers" try to scale the six-metre (20 ft) fences.
They are often topped with barbed wire or even coils of razor blades.
Fernando Grande-Marlaska, a judge who became Spain's interior minister earlier this month, has commissioned a report into finding the "least bloody possible means" of preserving border security.
"I'm going to do everything possible to see that these razor wire fences at Ceuta and Melilla are removed," he told Spanish radio station Onda Cero on Thursday.
"It's one of my main priorities."
Mr Grande-Marlaska said the goal should be to deter would-be migrants before they reach the perimeter.
"We can act before, at the point of origin, but we cannot let it get to that point," he said. "It is not reasonable or acceptable to see people jumping over the fence."
The Spanish Red Cross says 25 migrants have been treated for barbed wire cuts already this year, with 10 needing hospital treatment.
Other methods deployed by migrants to enter Ceuta and Melilla include swimming along the coast, or hiding in vehicles.
However, most migrants are intercepted and returned to Morocco, and those who do make it over the fences are eventually repatriated or released.
The barbed wire fences: A bloody history
The controversial razor wire fences were first introduced in 2005, but removed two years later due to the wounds sustained when people tried to climb them.
A 30-year-old Senegalese man reportedly died after a barbed wire fence in Ceuta pierced an artery in his neck.
In 2013, former Spanish Prime Minister Mariano Rajoy revived the wire after waves of migrants tried to breach the country's border - a move branded inhumane by political opponents, activists, and senior Catholic bishops.
Spain's new socialist leader, Pedro Sánchez, committed to removing the barbed barrier during Spanish general elections in 2015 and 2016.
The ship was at the centre of a diplomatic row when Italy refused to let it dock, saying Malta should take the incomers - while Malta argued it was Italy's responsibility.
It's been an eventful first week for Spain's new government, which was only sworn in on 7 June.
On Wednesday night, the new Culture and Sport Minister Màxim Huerta resigned over a tax row.