Czech president calls press conference for underwear burning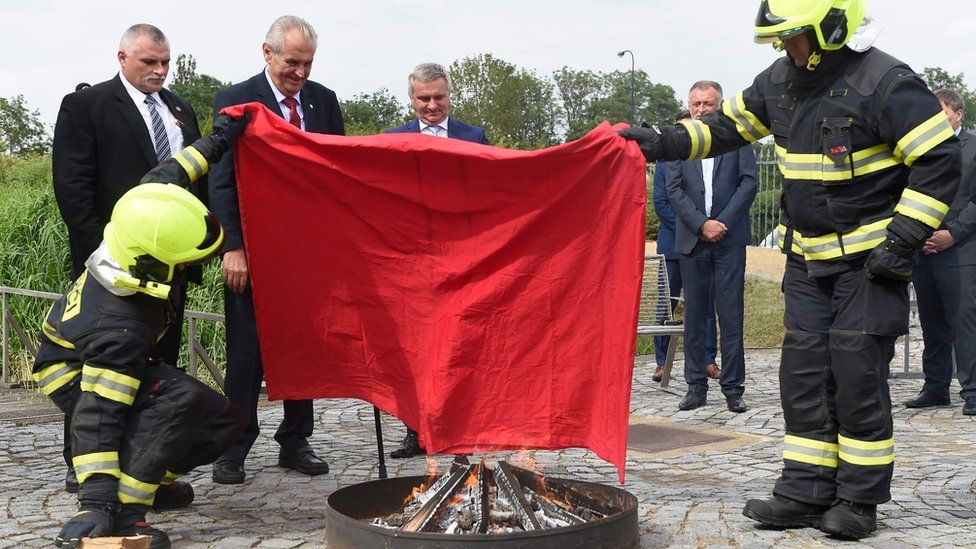 Czech President Milos Zeman called a press conference on Thursday to set a giant pair of red underpants on fire.
The president arranged the impromptu event without giving a reason, prompting widespread speculation.
He then burned the giant pair of red underpants, once used by an artist group to criticise him, in a makeshift fire pit.
"I'm sorry to make you look like little idiots, you really don't deserve it," he told reporters before leaving.
The AFP news agency characterised the press conference as a "bizarre event" which took the assembled journalists by surprise.
Czech media said the president had purchased the same boxer shorts from the state property office - for the price of one Czech crown.
Radio Praha said the demonstration supposedly symbolised the "time to end the era of dirty laundry in politics".
Mr Zeman's political opponents failed to see the humour in Thursday's fiery stunt.
One, Petr Gazdík of the Stan party, wrote that if he did not have respect for the presidency, he "would say that the President has gone mad" and that the spectacle "reduces the dignity of the presidential office".
Mr Zeman's unusual press conference was not the first time he had taken aim at the press.
In October last year, he attended a press conference brandishing a fake rifle labelled "for journalists". In May, he said that journalists should be "liquidated" - a comment characterised as a joke.
The 73-year-old president won his second term of office in January in a tight run-off, emerging with 52% of the vote and beating his pro-EU rival.
Mr Zeman, meanwhile, supports his country's membership of both the EU and Nato - but with reservations. He opposes sanctions imposed by the EU against Russia, and is critical of the EU's system for distributing migrants among member states.