Council employees get time off to park further from work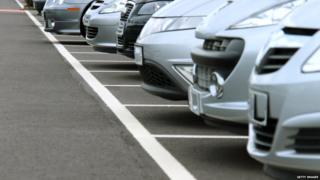 Staff at a County Antrim council have been given time off in exchange for agreeing to park their cars further away from their work.
Antrim and Newtownabbey Council has defended the unorthodox arrangement at its Mossley Mill headquarters.
A "whistleblower" quoted by the Antrim Guardian claimed that by parking away from the offices it was possible to get 45 minutes off in lieu.
"You can start early and claim flexi-time as well," the source said.
In a statement, the council said car park spaces were sometimes required for the large numbers of people making use of conference facilities at the mill, and that these facilities generated £145,157 of income in 2017/18.
Advance notice
"At these busy times, staff based at Mossley Mill are given advance notice and volunteers are sought to park off site, to free up parking spaces for customers," the council said.
It added that on average staff were asked to park at another council site once or twice a week and walk to their offices.
The sites in question were 10 or 15 minutes from its offices.
"Staff who volunteer to park off site, are allowed time to walk to and from their normal place of work at Mossley Mill," the council said.
The statement rejected the claim made by the "whistleblower" that staff could build up an extra 18 days leave because of the parking arrangement.