Ronaldo's superhuman match in pictures
Ronaldo's hat-trick against Spain has been hailed as one of the all-time great World Cup performances.
Here, in pictures, is how the Portuguese star's game unfolded.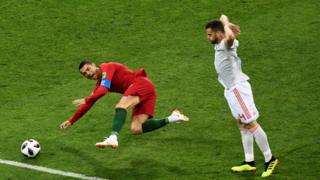 Shortly after kick off he was brought down as he ran into the penalty area, winning a penalty...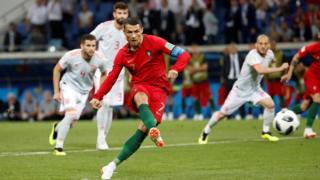 ... which he fired into the right-hand side of the goal, giving Portugal the lead.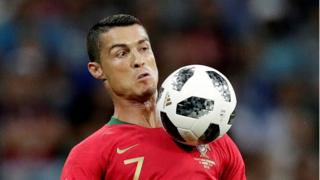 During a display of supreme efficiency, the 33-year-old chose when to get involved and when to conserve his strength for the vital moments to come.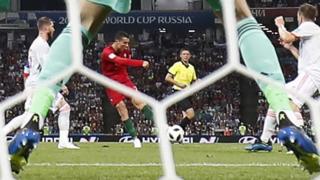 Later in the first half he defeats Spanish goalkeeper David De Gea again with a shot that squeezes under his body.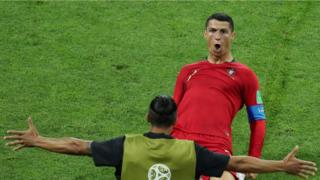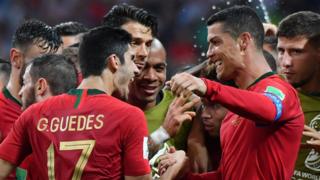 A sliding celebration follows before he is mobbed by teammates.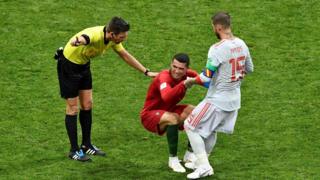 The match was billed as a clash between two titans usually seen playing on the same side for Real Madrid. But there was no animosity between Ronaldo and Sergio Ramos, with the latter on one occasion helping him to his feet.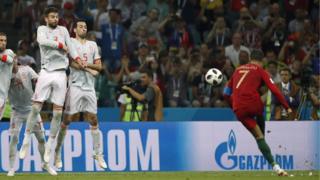 In the 88th minute a free kick to Portugal.
Ronaldo curls it around and over the defensive wall and into the top corner for the equaliser...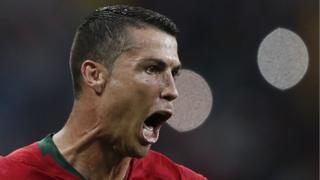 ... before roaring out his emotion...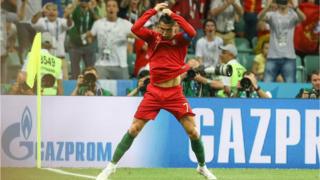 ... and again giving his trademark celebration, sweeping his hands down and out to the sides.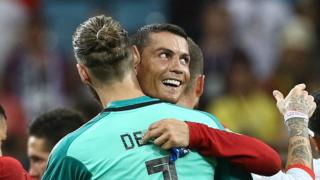 After the final whistle there is delight as he embraces Spain goalkeeper De Gea, whom he had beaten three times.
Giants of the global game hailed a superhuman performance.
Legendary former Italian captain Franco Baresi was speechless.
"Let's go, family!" said the man himself, posting a picture of the team together after a famous match.
All pictures copyright.