World Cup 2018: 'Safe space' for Russia LGBT football fans shut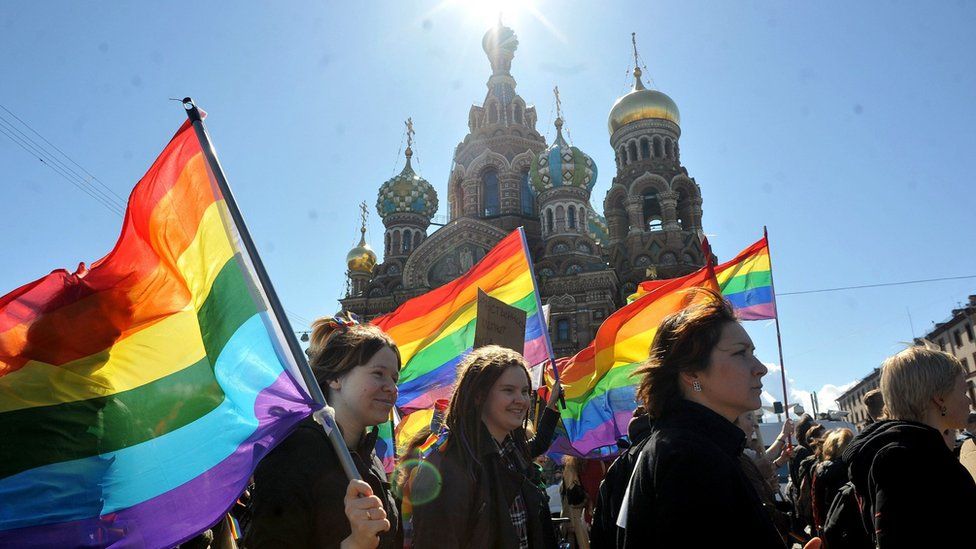 An organisation providing a "safe space" for LGBT and ethnic-minority football fans in Russia says it was evicted from its premises in St Petersburg on the eve of the World Cup.
Diversity House was supposed to open for the duration of the tournament.
It aimed to provide a tolerant environment for gay and non-white football fans to watch matches.
But at the last minute the building's owners locked the organisers out and terminated their contract.
"They asked us to leave the place very rudely, switched off the electricity and they explained nothing to us," a local organiser told the BBC.
The international Football Against Racism in Europe (Fare) network, which was behind the initiative, said it could have been a politically motivated move.
It was a "political attack of the kind that shows how debates about human rights are curtailed by powerful conservative political forces in Russia", said Fare director Piara Powar in a statement on Saturday.
He pointed to a long history of rights groups being closed or pressured on legalistic pretexts in Russia, and particularly in St Petersburg.
New premises in the city centre have since been found and opened on Saturday, organisers said.
Homosexuality was decriminalised in Russia in 1993, but anti-gay prejudice is rife.
Five years ago, the Russian Duma passed a law that made "propaganda of non-traditional sexual relationships" among minors an offence.
Football's ruling body Fifa, which works with Fare, said it had contacted St Petersburg authorities to try to find a solution and said it "regretted" what had happened.
Another Diversity House in Moscow is open and has been running events.
They are open to Russians and visiting fans every day of the World Cup.