Turkey election: Expats play decisive role in Erdogan vote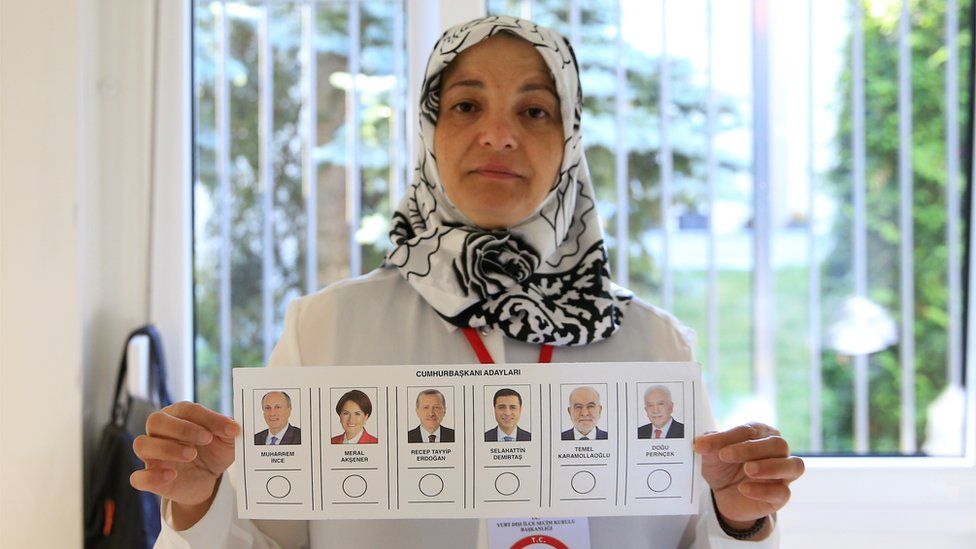 Eyebrows furrowed, feet hesitantly tapping, the Turkish choir of Berlin gets to grips with a new piece of music. They've been singing songs of heartbreak and history here for more than 30 years. Men and women for whom two countries, Germany and Turkey, will always feel like home.
They are among the 1.4 million people of Turkish heritage eligible to vote in Germany in an election that will decide the future of President Recep Tayyip Erdogan.
Officially the choir doesn't do politics and has no affiliation or associations but, when the singing stops, election talk flows as freely as the tea from the Turkish samovar steaming in the corner.
"Erdogan's been in power for 16 years now and we're sick of him," says one man. "For me it's about freedom of press, democracy, the oppression by the state. We are sick of that. We want him gone."
Last week, before the polls here closed, many queued outside the Turkish consulate in Berlin. Cars parked at crazy angles, jammed into every available space as more arrived.
Turkey's expats and the vote
Total number of voters 59.4m - including 3,049,065 outside Turkey
Germany has 1.4m eligible voters; France 340,000; Netherlands 250,000; Austria 105,000; 100,000 in UK
Ballot boxes in 123 missions in 60 countries, from Denmark to Uzbekistan
Voting outside Turkey took place from 7-19 June
By 20 June, 1.49 million Turks had cast their ballots abroad, a turnout of 48.8%
Vote in Turkey on 24 June
Security guards checked passports and performed desultory pat-downs before waving people inside to vote in an election which is really all about one man.
"Recep Tayyip Erdogan!" exclaimed one man, beaming excitedly when I asked for whom he'd voted. "He's been in power for 16 years and he does everything for us!"
If re-elected Mr Erdogan will assume far greater powers that come into force as a result of a constitutional referendum last year. In that vote in April 2017, 63% of German Turks supported him - although only half of those eligible to vote are thought to have done so.
"Everyone calls him a dictator," says ardent Erdogan supporter Erkan. "But if he was a dictator do you think other parties would even have a voice?"
A woman further along the road sees democracy as Turkey's biggest election issue: "Everything that goes wrong in Turkey really worries me. Erdogan did his duty in the first two terms but then he just failed."
Who are Erdogan's main challengers?
Muharrem Ince, 52, Republican People's party (CHP)
Meral Aksener, 61, nationalist Iyi (Good) party
Selahattin Demirtas, 45, jailed leader of pro-Kurdish HDP party
Temel Karamollaoglu, 77, Felicity party and Dogu Perincek, 76, Patriotic party
If Mr Erdogan fails to secure 50% + 1 vote on 24 June, a run-off follows on 8 July.
It has been several years since the German authorities allowed President Erdogan to campaign on German soil.
There were protests in Cologne in 2016 when the constitutional court stopped a planned rally by video link.
And Turkish-German relations are rarely, if ever, serene.
The government in Ankara has likened the German authorities to Nazis. It has locked up German citizens, including journalist Deniz Yücel, who was held for more than a year without charge. In March, the German government said that four citizens were still in Turkish custody.
Berlin has threatened sanctions and issued travel warnings.
A German comedian published a satirical poem mocking Mr Erdogan which infuriated the Turkish government.
But, despite the many diplomatic storms, the countries are still bound together: by an EU migrant deal, of which Chancellor Angela Merkel was the main architect, and by the sheer size of the Turkish diaspora.
Some four million Turks live in Germany, the largest community outside Turkey.
The anticipated election tirades against Mrs Merkel and the so-called EU elites that have characterised other Turkish elections in recent years are this time comparatively muted.
But this election is rather different because of Turkey's faltering economy, argues Oezguer Oezvatan, a research fellow at the Berlin Institute for Integration and Migration Research.
"I would say that [President Erdogan] can count on Turkish votes in Germany because we see that generally those people have socially conservative attitudes," he says. And yet he believes the opposition's campaign focus on rising inflation in Turkey may have an effect.
For many of the singers in the Turkish choir in Berlin, there is a sense that something might be shifting back in Turkey.
"'In the future there'll be lots of very open-minded young people in Turkey who have a long-term perspective," one woman tells me. "Turkey may have a few years of difficult times ahead but in the future it will be better."