Turkey's elections explained in 100 and 500 words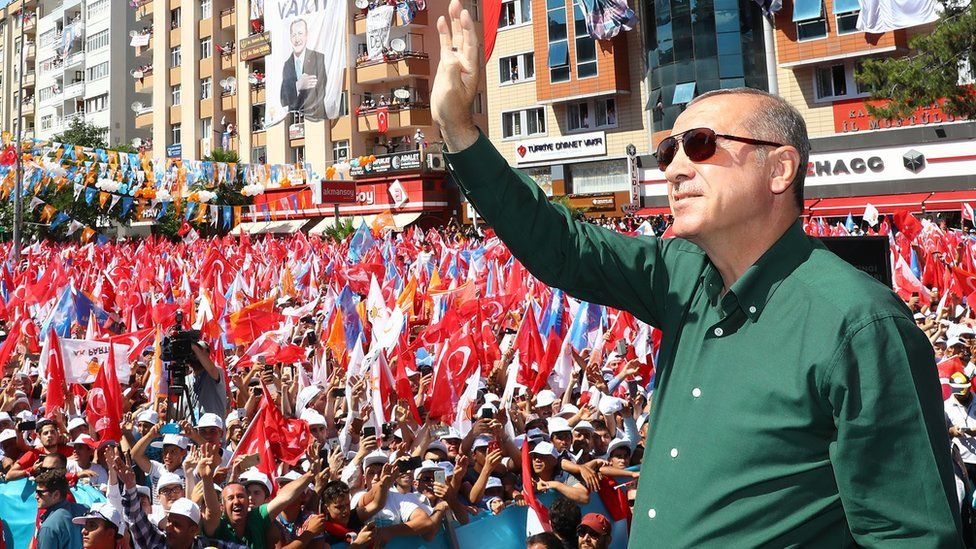 Recep Tayyip Erdogan has won Turkey's presidential vote, cementing his authority with beefed-up powers.
After 15 years at the top of Turkish politics, he fought off a spirited opposition campaign to secure the presidency in the first round and his party will also control parliament.
Here is a rundown of what you need to know - in brief and at greater length.
Read either or both to understand what his victory means.
Turkey's Recep Tayyip Erdogan, 64, has not only retained the presidency until at least 2023, he has strengthened it.
New powers approved in a 2017 referendum will now come into force, transforming what had been a ceremonial role into the key executive role in this Nato member country.
He won 52.5% of the vote and avoided the risk of a run-off vote, shrugging off a faltering economy.
For the first time, Turks voted for a new parliament on the same day - and handed the president's Islamist-rooted AK party a majority through its alliance with a nationalist ally. His main opponent has warned of Turkey becoming a "one-man regime".
Recep Tayyip Erdogan has reshaped Turkey more than any other person since the founding of the modern state, first with two terms as prime minister and, since 2014, as president. He has presided over consecutive years of economic growth and improved public services.
But he leads a polarised nation. The results of the 24 June elections show continued support for a leader who has cracked down on opponents and has the support of most Turkish media.
One of his challengers for the presidency, Selahattin Demirtas of the pro-Kurdish HDP, fought his campaign from a jail cell and his closest rival, Muharrem Ince, says Turkey has become a "one-man regime in its fullest sense".
Directly appointment of top public officials, including ministers and vice-presidents
The power to intervene in the country's legal system
The power to impose a state of emergency
Mr Erdogan called snap elections as Turkey's currency, the lira, has slumped 17% this year against the dollar and the main interest rate has been increased to 17.75%.
While Turkey's economy continues to grow strongly - by 7.4% in the first quarter of 2018 - there are fears of a sharp slowdown ahead, and the fall of the lira has hit people's pockets.
By winning 52.5% of the vote, he saw off his closest rival, Muharrem Ince, who won just over 30% of the vote.
His AK party won 42.5% of the separate parliamentary vote but, together with the nationalist MHP, that gives him a comfortable majority with 343 seats in the 600-seat assembly. The nationalists' success came as a surprise to commentators and a bonus to Mr Erdogan, because the party's vote was widely expected to suffer after a rising star, Meral Aksener, left the party to form her own.
Mr Erdogan continues to win support in his conservative heartland outside the big cities and among expatriate voters in Germany, the Netherlands and France.
Under the AKP, Turkey has embraced a moderate Islamism, accepting Islamic symbols in public life to some extent - for example, in allowing female state employees to wear headscarves.
By contrast Muharrem Ince's Republican People's Party (CHP) is a staunchly secular party. He attracted mass rallies ahead of the elections in Izmir, Ankara and Istanbul, but while he polled well in the presidential vote, his party was unable to spread its appeal beyond Turkey's secular heartland. The CHP polled about 22%.
Despite its leader being in jail and restrictions placed on voters in Kurdish areas of the south-east, the pro-Kurdish party, which is firmly against Mr Erdogan, won 11.6% of the national vote and will continue to play a significant role in parliament.