Italy migrant row: 'Inhumane' Malta refuses rescue ship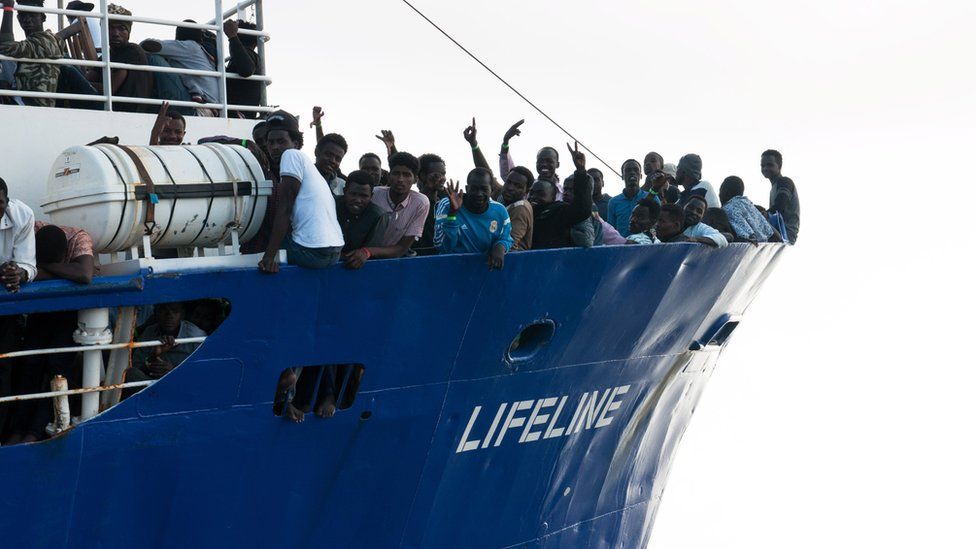 Italy has attacked Malta for refusing to take in a ship of migrants.
Transport Minister Danilo Toninelli shared a photo of an email by the Maltese Armed Forces saying the vessel "has not manifested any distress".
The Lifeline, carrying 226 migrants rescued from the sea near the Libyan coast, is one of two ships operated by German NGO Mission Lifeline that the Italians have vowed to impound.
They are accused of "illegally" flying the Dutch flag.
Why does Italy want to seize the ships?
Italy's new right-wing government has taken a harder stance on rescue ships bringing large numbers of migrants to Italy, which is often the nearest port for those rescued off coast of Libya.
Mr Toninelli said earlier the ship had broken the law by taking the migrants, even though the Libyan coastguard had already intervened to rescue them.
He said Italy would seize both the Lifeline and the Seefuchs to determine their legal status, and added that Italy would "once again save the migrants".
Italy's new far-right Interior Minister Matteo Salvini initially said in a post on Facebook that the two NGO ships should "go to Holland", as it was said to be flying under a Dutch flag, and should not dock in Italy.
Whether or not the ship is Dutch is the subject of some debate. The Dutch delegation to the EU said in a tweet that the ships were not registered in the Netherlands, and not flying under its flag.
The group also tweeted that it had carried out another rescue overnight, though it is not clear how many additional migrants, if any, boarded their ship.
The NGO's co-founder, Axel Steier, denied breaking any laws and defended his organisation's actions.
"In this situation you can't wait," he said. "If you have a rescue you prevent people from dying, from drowning and then you have to make the decisions. You can't wait until someone has a port for you - you have to act immediately."
The planned seizure of the Lifeline and Seefuchs comes amid a deepening row over migrant rescues after Italy's new populist government refused earlier this month to take in a stranded rescue ship carrying 630 migrants.
French President Emmanuel Macron has accused the Italian government of "cynicism and irresponsibility" for refusing to let the Aquarius dock.
Then on Thursday, without referring directly to Italy, Mr Macron attacked the "leprosy" of anti-EU feeling among "friends and neighbours".
Mr Salvini hit back at the French president.
"We may be leper populists, but I take the lessons from those who open their own ports. Welcome thousands of migrants and then we can talk," the interior minister said.
Leaders from 10 EU member states will meet in Brussels on Sunday to discuss how best to stem the flow of migrants to the bloc.
Italy's government wants to deport half a million undocumented migrants, many of whom are housed in squalid reception centres. More than 600,000 have reached Italy from Libya in the past four years.