Germany building explosion injures 25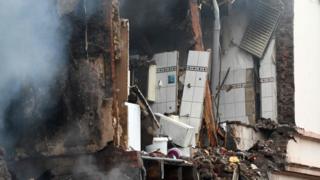 German police say 25 people have been injured, four severely, in an explosion that destroyed a several-storey building in the city of Wuppertal.
The explosion tore through the building shortly before midnight, police said, leaving parts of the structure burning.
Firefighters rescued four severely injured people and 21 more were treated at the scene for light injuries.
Police said firefighters were still tackling the blaze, while the cause of the explosion was being investigated.
The blast left a large hole where the building used to be, with flats either side in danger of collapse and vehicles crushed by debris.