Germany burkinis: Minister says garments should be allowed in schools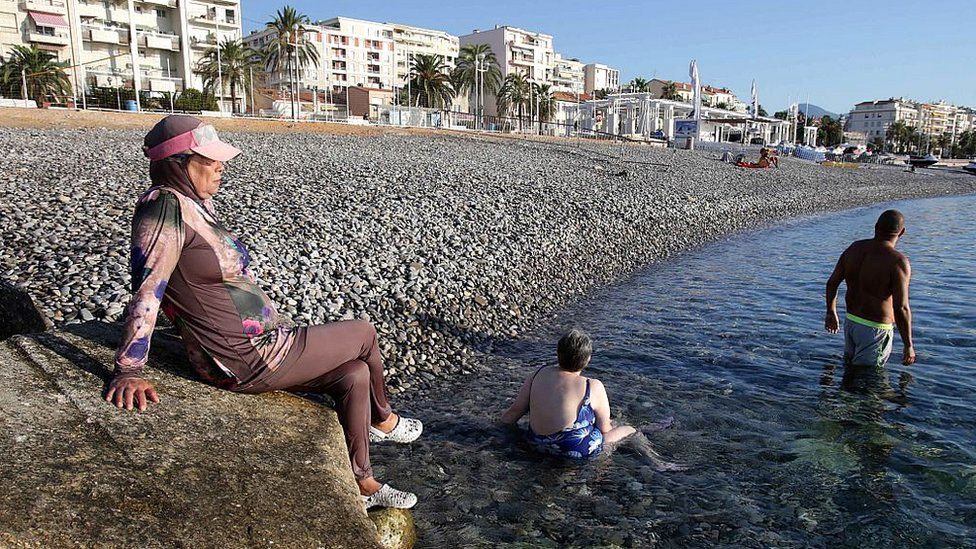 Germany's family minister has defended the use of the burkini in schools, saying that the swimsuits could help Muslim girls integrate.
Earlier this month, a school in western Germany sparked debate after offering burkinis to students who would otherwise not attend swim classes.
The burkini has been a controversial topic across Europe.
The French city of Cannes was last week ordered to repay a fine given to a woman wearing the garment.
The issue began when a school in the state of North Rhine-Westphalia (NRW) bought 20 burkinis - paid for by private donations - for use by its female students, according to the Westdeutsche Allgemeine Zeitung.
Fifteen girls who would normally have refused to attend mixed swimming lessons have since been able to take part thanks to the swimwear, which covers the whole body except the face, hands and feet.
The school's decision caused outrage among conservative lawmakers in Germany, where over a million refugees, mostly from the Middle East and Afghanistan, have arrived in recent years.
You may also be interested in:
Julia Klöckner, the deputy leader of Angela Merkel's Christian Democratic Union (CDU), said that the decision "cemented a discriminatory understanding of women's role in the very place where children and young people learn the opposite and should develop freely", while NRW's deputy integration minister said it sent out "the wrong signal".
But Family Minister Franziska Giffey, from the centre-left Social Democrats, responded on Sunday by saying: "The most important thing is the well-being of the children and that means that everyone learns to swim."
She argued it was justified for schools to allow the burkini to be worn in class and warned against portraying the issue "as the downfall of the West".
Separately, a court in the French city of Nice ruled that an €11 (£10) fine imposed on a woman wearing a burkini in Cannes two years ago was illegal.
At the time, France introduced a controversial ban on burkinis, which was later lifted in seaside resorts after the top administrative court overturned the decision.