Billy Elliot 'gay propaganda' row exposes purge in Hungary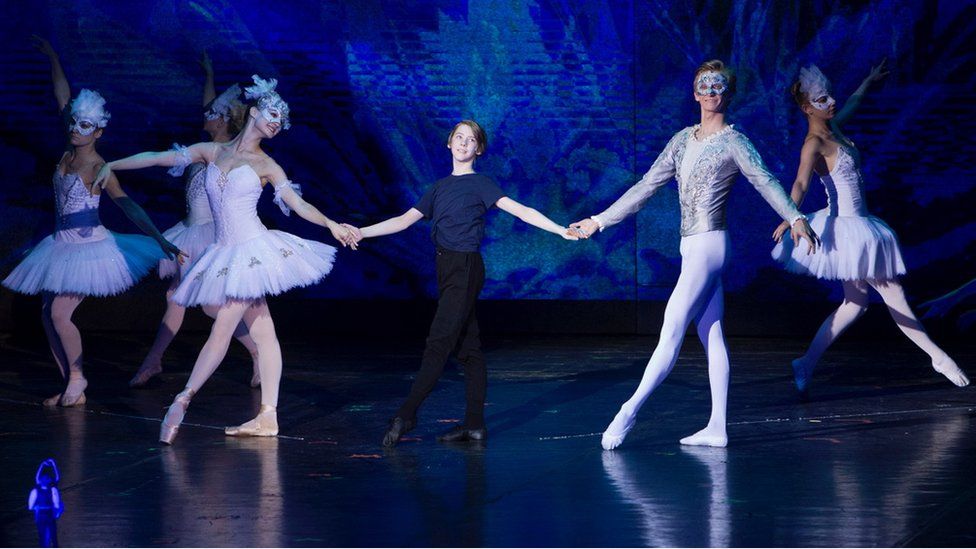 The attack on the head of the Hungarian State Opera was both crude and unexpected. And it came from the mouthpiece of the ruling Fidesz party, Magyar Idok.
Children who watched the opera's performance of the musical Billy Elliot were in danger of becoming homosexual, wrote Zsofia N Horvath in her opinion piece.
Even the red stars used in the performance, in Budapest's cavernous Erkel theatre, were attacked in the show as "banned symbols".
Billy Elliot tells the story of an 11-year-old boy who decides to become a ballet dancer during the 1984 miners' strike in the UK. One scene in which the boys dress in women's clothes was identified as particularly offensive and "corrupting".
The attack has triggered a storm in Hungarian media.
And Horvath's outrage is peculiar because this is the musical's third season at the Budapest opera. It opened in 2016 and it has never been criticised before.
The head of the opera, Szilveszter Okovacs, also enjoys support from the very top.
Prime Minister Viktor Orban and his wife Aniko are regular visitors to the opera, which has been granted £62m ($83 million; €70 million) for a complete two-year reconstruction.
But another mystery entirely is that there is no known journalist called Zsofia N Horvath.
Mr Orban's supporters, buoyed by a third straight landslide victory in elections in April, have upped the ante.
The article fits into a new cultural offensive against the last "liberals" in a film, theatre and publishing world that is already dominated by Fidesz figures.
Since December the same publication, Magyar Idok, has featured a string of articles by Fidesz ideologists Arpad Szakacs and Tamas Fricz.
Dozens of "offenders" have been targeted, including the head of the distinguished Petofi literary museum in Budapest, Gergely Pröhle. Jozsef Palinkas, the head of the National Research, Development and Innovation Office and a one-time Orban education minister, has been sacked.
All areas of cultural life should be "purged" of those who allow space for "liberal, globalist, and cosmopolitan ideas", the writers suggest, including state News Agency MTI, the Hungarian Academy of Sciences and even Petofi radio, a public service music channel.
According to Tamas Fricz, as Hungary's dominant political system has evolved, so must culture as well. Presumably that would preclude Billy Elliot.
What will happen to Billy Elliot?
Mr Okovacs has hit back, swiftly publishing two rebuttals.
The next day, in the same newspaper, he argued that if homosexuality was a problem in the arts, certain works by Beethoven, Tchaikovsky, Mozart and Strauss could hardly be performed.
Last week, however, he announced that 15 of the 44 scheduled performances of Billy Elliot had been cancelled "not because of the media controversy, but because of a fall in ticket sales in the wake of the controversy".
"If parents hear from one side that Billy Elliot is gay propaganda, while from the other that this is terribly homophobic, they may conclude that our production is at least problematic, while in fact it is not. Everyone is making a mountain out of a molehill," Mr Okovacs told the BBC.
"More than 100,000 people have already seen Billy Elliot in Hungary, which means that it has been a success."
Thanks to the musical, the opera has also managed to found a ballet school, he added, which now has over 100 pupils.