Irish PM will not prepare for hard border ahead of Brexit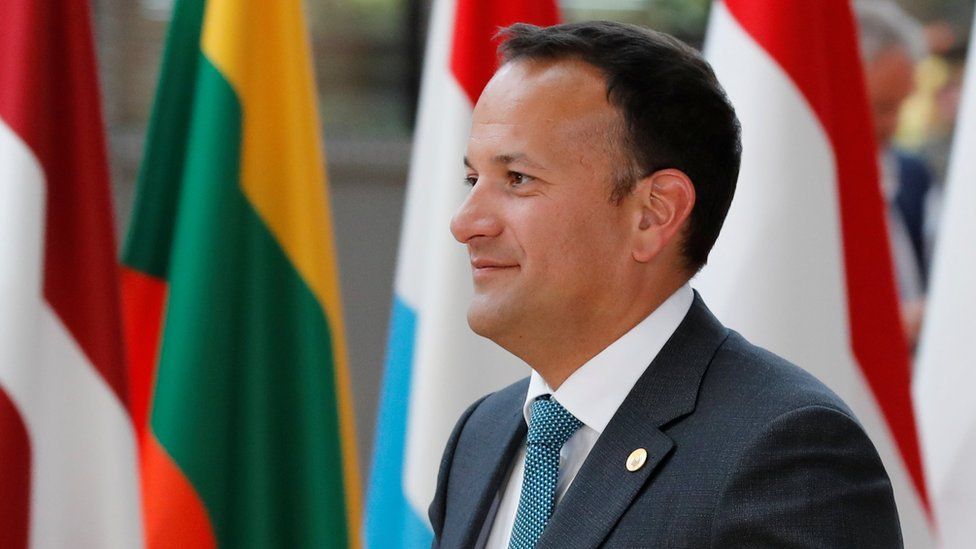 Ireland will not be preparing for a hard border, even as the risk of a hard Brexit rises, the taoiseach (Irish prime minister) Leo Varadkar has said.
EU leaders are expected to recommend that governments and businesses step up their work to prepare for all outcomes.
Mr Varadkar said he trusts UK and EU assurances that there will not be a hard border in any circumstance.
However, he said there were contingency plans for Irish airports and seaports in event of a no deal Brexit.
Mr Varadkar was speaking on his way into an EU summit in Brussels.
He also said he was looking forward to seeing a UK white paper on how it sees post-Brexit relationships with the EU.
That is expected to be published within the next two weeks.
Mr Varadkar said it would have been helpful if that white paper had been produced two years ago.
Earlier, the Dutch Prime Minister Mark Rutte said the Irish border has to be the "first, second and third priority" in the Brexit negotiations.
He says the UK needs a border backstop plan which is not temporary.
He said that once the border was addressed "so many other issues will be easier to discuss".
The backstop is an agreement to avoid a hard border on the island of Ireland if there no wider trade agreement between the UK and the EU before Brexit.
Meanwhile in Dublin, the tánaiste (Irish deputy prime minister) said he is frustrated and disappointed that the UK "hasn't delivered on Irish Brexit backstop commitments made to Ireland and the UK" in December and March.
Simon Coveney, who is also the minister for foreign affairs, made his remarks in the Dáil (Irish parliament) ahead of the EU summit.
Mr Coveney said he wanted to make it clear "there will be no withdrawal treaty if there is no legally operable text" in relation to the backstop.
'Negotiations with itself'
Sinn Féin's finance spokesman, Pearse Doherty, asked Mr Coveney if the Irish government would be prepared to call a special EU summit ahead of the October deadline so that Irish border matters could be definitively dealt with.
Mr Coveney said it was difficult to make progress in the negotiations until the British cabinet had concluded its own negotiations with itself.
He said he would be in London on Wednesday for a series of meetings with British ministers, ahead of Prime Minister Theresa May's Chequers meeting with her cabinet colleagues on Brexit strategy.