Mary McAleese and her son march in Dublin Pride parade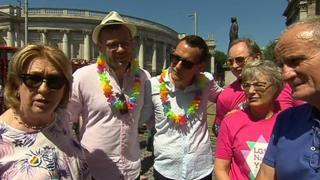 Former Irish president Mary McAleese has marched in Dublin's Pride Parade with her son and his husband.
It is the first time the former president has taken part in the parade.
This year's theme is 'We Are Family', a reference Pope Francis' visit to Ireland later this year for the Catholic World Meeting of Families.
The event took place two weeks after the Irish government apologised to people prosecuted before homosexuality was decriminalised in 1993.
Among those taking part were LGBT activists protesting against the pontiff's visit and what they claim is homophobia within the Catholic church, Irish national broadcaster RTÉ reported.
Many were also campaigning for same-sex marriage to be introduced in Northern Ireland.
Catholic teachings
At an event in Navan, County Meath, on Friday, Mrs McAleese said that the Catholic Church's teaching on homosexuality is "evil".
Speaking ahead of the Dublin Pride Parade, she said that the Church's teachings "conduces to homophobia".
"Homophobia is evil. It ruins people's lives, it has ruined families' lives, it has caused people to commit suicide, it has caused people to live in dark shadows, so unsure of themselves," she said.
Mrs McAleese was a vocal advocate for same-sex marriage during Ireland's referendum in 2015.
Her son Justin McAleese also played a prominent role in Ireland's same-sex marriage referendum when he spoke of his experience growing up as a gay man.
In February, Justin McAleese sent a letter to Fianna Fáil party members in a Dublin constituency stating that he is seeking to win a seat in the next general election.