Russia pension: Protests over retirement age hikes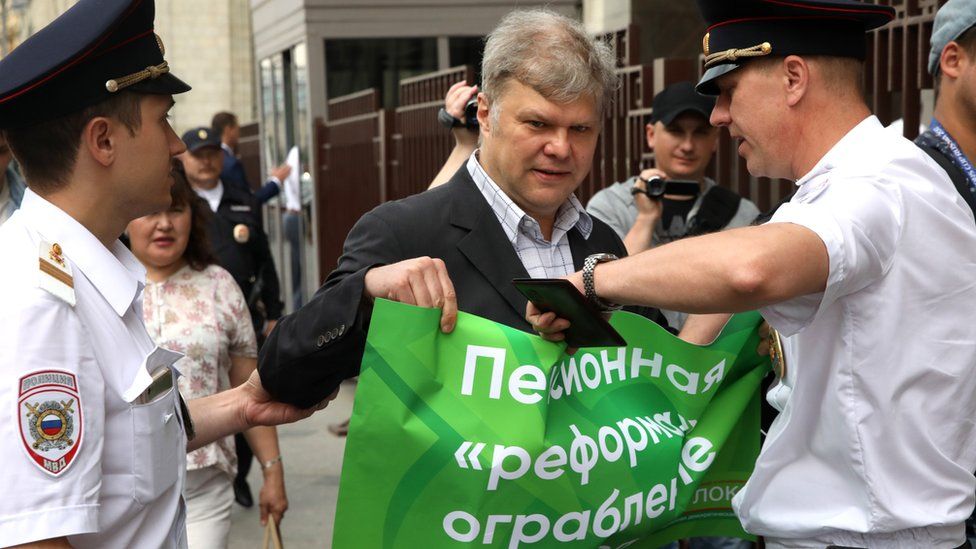 Protests are being held in about 30 Russian cities to express anger at proposals to raise the pension age.
The plan, announced the day the football World Cup began, would see the age raised gradually from 60 to 65 for men, and from 55 to 63 for women.
The government says the changes are needed to cope with a shrinking workforce having to provide for an increasing number of retirees.
But unions warn many people will not live long enough to claim a pension.
An estimated 3,000 people turned out in the Siberian city of Omsk and there have been smaller protests elsewhere.
They included supporters of leading opposition figure Alexei Navalny but also trade unionists, Communists and nationalists.
Writing on Instagram, Mr Navalny said the pension age hike was a "true crime".
"It is common robbery of tens of millions of people under the guise of 'much-needed reform'," he said.
He and others posted pictures of some of the rallies on Twitter.
Общероссийская акция против повышения пенсионного возраста в самом разгаре. Европейская часть страны только начинает. Но уже сейчас ясно, что только наша сеть штабов организовала их в 39 городах (только те, где мы организаторы или со-организаторы с ведущей ролью) pic.twitter.com/q0TyOln7nG

— Alexey Navalny (@navalny) July 1, 2018
В Комсомольске-на-Амуре прошел самый масштабный митинг за последние годы.
Никогда протестные акции не собирали такое количество комсомольчан. 
Самое главное, что все эти люди были разных политических взглядов, которые объединились против общей проблемы. pic.twitter.com/DKKXvnZrDe

— Михаил Потапенков (@potapms) July 1, 2018
Some of the slogans on show included "Pay and die", "Stop rummaging in our pockets", "I won't live that long", "I want to live to get a decent pension, not survive until I get my coffin" and "pensions are for the living not the dead".
Protests were however banned from taking place in any of the World Cup host cities.
One poll has indicated that 80% of Russians oppose the plans and Moskovski Komsomolets, a popular Moscow newspaper, has described them as the "most dangerous and risky reform of President [Vladimir] Putin's 20-year rule".
According to the VTsIOM state pollster, the Kremlin leader's approval ratings fell by 14 percentage points from 78% when the measure was announced to 64% in just under two weeks.