Belfast City Council defends hosepipe use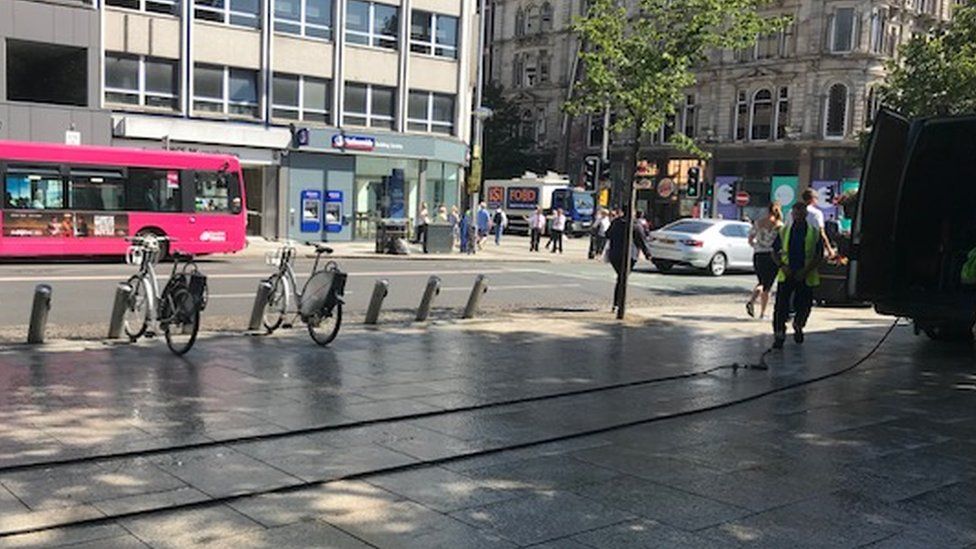 Belfast City Council has defended its policy of continued hosepipe use during the heatwave.
Council employees were seen cleaning the pavement outside the City Hall on Monday morning.
A council spokesperson said it had to balance the need to conserve water with essential maintenance:
"Although NI Water has asked councils to help preserve water and we have advised staff of this, we have to balance that with maintaining our public buildings and essential services, this includes the areas around the City Hall.
"Where an area is assessed and needs cleansed a decision will be made balancing the operational need with the need to be mindful of conserving water."
It is understood the council workers were power hosing tree sap off the pavement in Donegall Square North.
An NI Water spokesperson said: "NI Water has asked all councils to voluntarily reduce water usage in the coming days and greatly appreciates their support".
The company has said that businesses are exempted from the hosepipe ban "as it is recognised they rely on water use for their livelihood".
The domestic hosepipe ban remains in place and NI Water has also asked people to:
Turn off the tap when brushing teeth
Keep a jug of water in the fridge
Fill the kettle with only as much water as you need