Ryanair pilots in Ireland to strike Thursday 12 July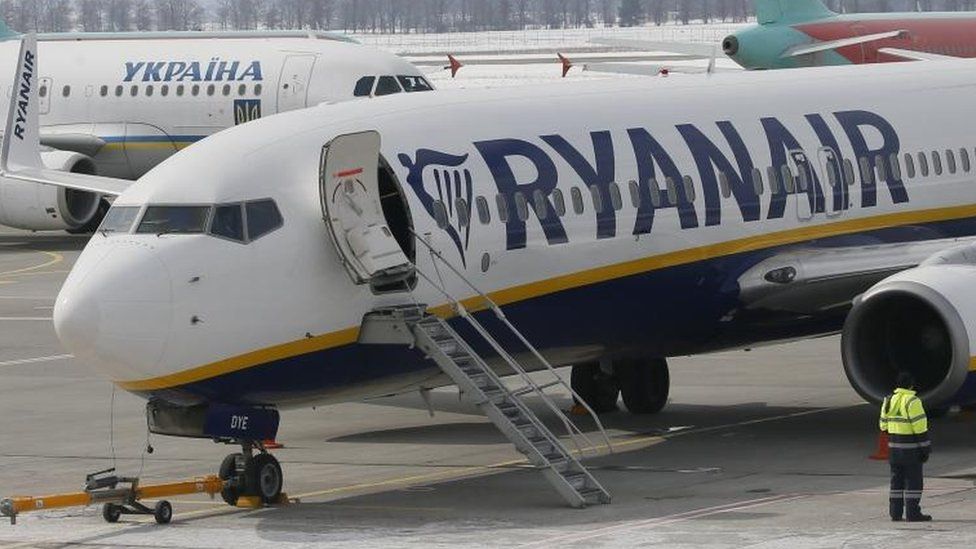 Ryanair pilots based in Ireland have voted to strike for 24 hours on Thursday 12 July - the start of the traditional holidays in NI.
It is likely to affect thousands of holidaymakers who travel to Dublin to take flights at that time of year.
Although only pilots based in the Republic of Ireland voted to strike, the union has warned it could have knock-on effects for flights elsewhere.
The dispute is over management's approach to transfers between bases.
The Irish Airline Pilots' Association ballot of those directly employed by Ryanair resulted in overwhelming support - 99% - for action.
The union claims Ryanair is not taking pilots' demands seriously.
The 24-hour strike is due to begin at 01:00 on Thursday 12 July - the traditional holiday fortnight for hundreds of thousands of people in Northern Ireland.
The union said it would notify the airline of additional strike days in due course.
The union said its members felt there was no transparent system to address matters such as transfers between the airline's European and African bases, which can have a "devastating effect on family life".
In a separate development, the International Transport Workers Federation is planning a two-day summit for Ryanair cabin crews across Europe, to be held in Dublin.
It also warns of potential industrial action if Ryanair does not address its concerns.
Meanwhile, the airline said air traffic control strikes meant 210,000 passengers faced flight cancellations in June.
The carrier said more than 1,100 flights were cancelled for the second month running due to air traffic control strikes over four weekends in June, as well as staff shortages in the UK, Germany and France.
This compared with just 41 cancellations in June last year.
It repeated its call for action from Europe to help tackle disruption from the strikes.
Despite the flight cancellations, the company pointed out that its load factor - a measure of how well airlines fill planes - remained unchanged at 96%.
The airline said the move would give customers who have paid for reserved seating more time to pick their seats. Those customers will be allowed to check-in up to 60 days before flying.
Seat allocation has become a hot topic for air passengers who suspect airlines of deliberately splitting up family groups in order to try to get them to pay for seats together.
This is currently being investigated by the Civil Aviation Authority.